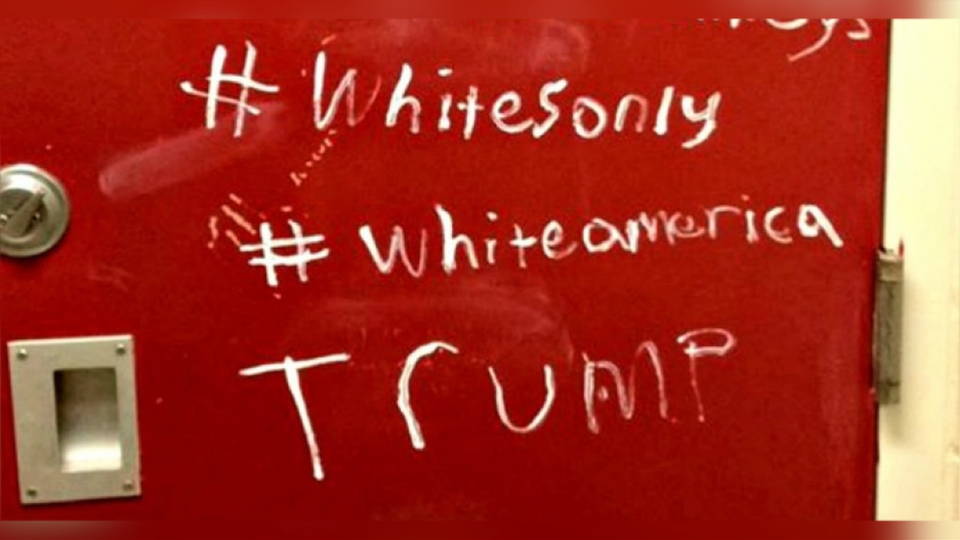 The Southern Poverty Law Center is reporting there have been at least 300 instances of physical and verbal harassment, abuse and intimidation against immigrants, people of color, Muslims and women in the wake of Tuesday's election. In one case reported to SPLC, a boy told a 12-year-old African-American girl at school: "Now that Trump is president, I'm going to shoot you and all the blacks I can find." A teacher in Washington state reported students chanting "Build a wall" in the cafeteria. The most commonly reported place where physical or verbal harassment occurred was in K-12 schools. This comes as school districts in Boston, St. Paul, Minnesota, and Denver, Colorado, have begun offering counseling services to students who are distraught and fearful both about Trump's election and the possibility of deportation, as well as the ensuing attacks, threats and harassment faced by students of color. We'll speak with Richard Cohen of the Southern Poverty Law Center later in the broadcast.
TOPICS: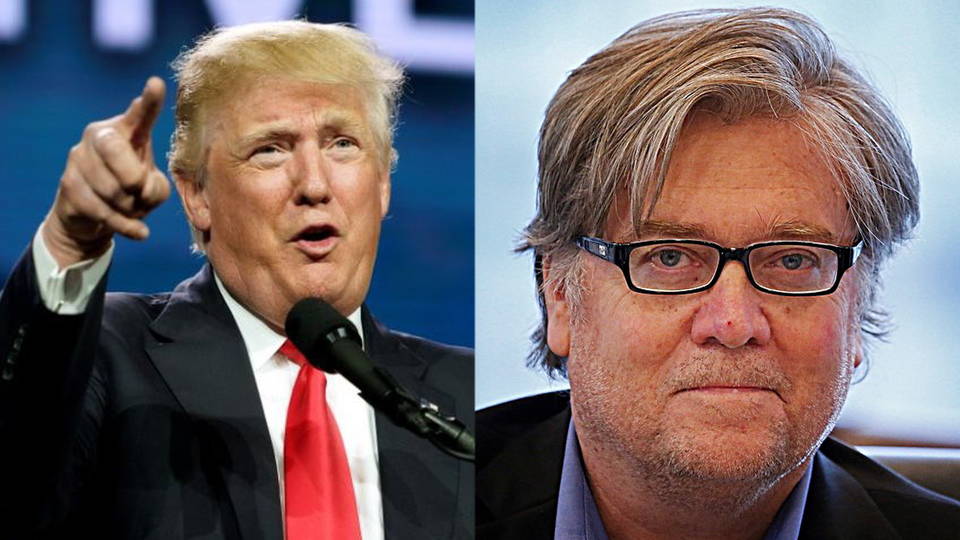 From Coast to Coast, Anti-Trump Protests Declare: "Not My President"
NOVEMBER 14, 2016
HEADLINES
Protests are growing across the United States following Tuesday's election. On Saturday, 10,000 people marched in New York City. Eight thousand more marched in Los Angeles, where 200 people were arrested. Protesters also took to the streets in Philadelphia; San Francisco; Oakland; Chicago; Oklahoma City; Salt Lake City; Springfield, Massachusetts; and in Dayton and Cincinnati, Ohio. In Portland, Oregon, police attacked protesters with pepper spray and flashbang grenades and arrested 71 people. One protester in Portland was also shot and wounded during a confrontation on a bridge that was blocked by the protests. In Traverse City, Michigan, a police officer was put on paid leave for intimidating protesters at a "Love Trumps Hate" rally by driving around the demonstration displaying a Confederate flag while he was off duty. This is Annette Alejandro at a protest in New York City Sunday.
Annette Alejandro: "I'm here to support everybody, to speak for my community, that's afraid, and they don't know where the country is going, and so together we could come up with a plan on what we can do next. A lot of things that are being talked about, and people are trying to reverse the laws that are in place, I'm very concerned about that, because I feel that would put our country back, and I feel that we should progress and be inclusive of everybody."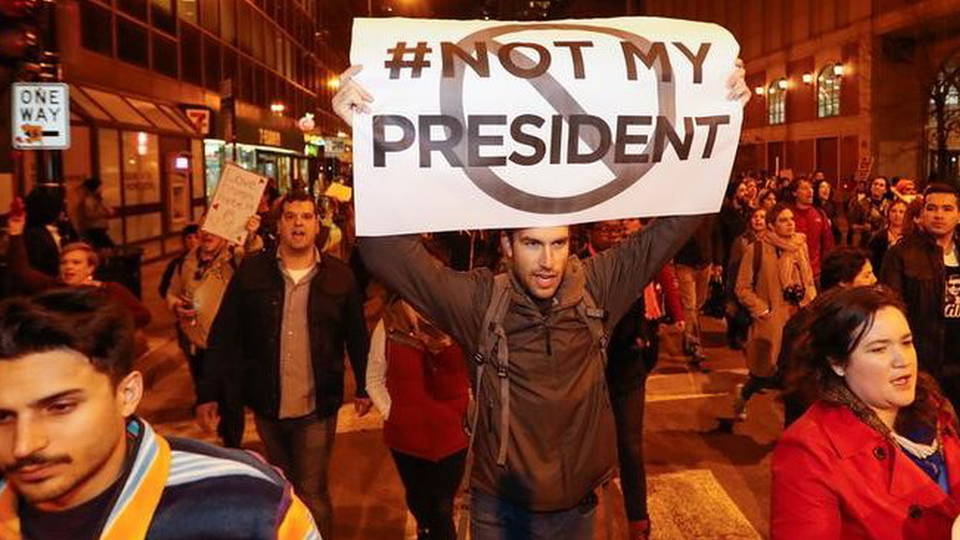 Protests continued across the country for a second night, following the election of Donald Trump for president. In Portland, Oregon, where thousands of people gathered to denounce the president-elect, police in riot gear attacked protesters with pepper spray and rubber bullets, while some demonstrators sprayed graffiti and broke store windows. A handful of people were arrested. In Oakland, hundreds of anti-Trump protesters took over Interstate 580, while in Denver, thousands of people rallied at the state Capitol. Anti-Trump protesters also took to the streets in New York City; Madison and Milwaukee, Wisconsin; Columbus, Ohio; Minneapolis, Minnesota; Los Angeles, California; Baltimore, Maryland; and Washington, D.C. The protests even reached the Supreme Court bench, where on Wednesday Justice Ruth Bader Ginsburg wore an embellished collar ruffle that signals disagreement. This summer Ginsburg told The New York Times, "I can't imagine what the country would be—with Donald Trump as our president," and said she'd move to New Zealand if he were elected. During protests in Washington, D.C., Thursday, a middle school teacher spoke about the confusion and fear of his students.
Middle School Teacher: "A lot of them are really confused about these election results. So, after I explain to them how Trump, quote-unquote, 'won,' they ask me the same question: 'Mr. E, will I get deported?' All of my periods ask me the same question. Are we going to deport them?"
Protesters: "No!"
Middle School Teacher: "Why not? Because love trumps hate. Let me hear you!"
Protesters: "Love trumps hate! Love trumps hate!"
The protests last night came after President-elect Donald Trump met with President Obama in the Oval Office Thursday. Following the meeting, Trump tweeted, "Just had a very open and successful presidential election. Now professional protesters, incited by the media, are protesting. Very unfair!"
TOPICS:
Hundreds of Reports of Racist Attacks in Wake of Trump Victory
NOVEMBER 11, 2016
HEADLINES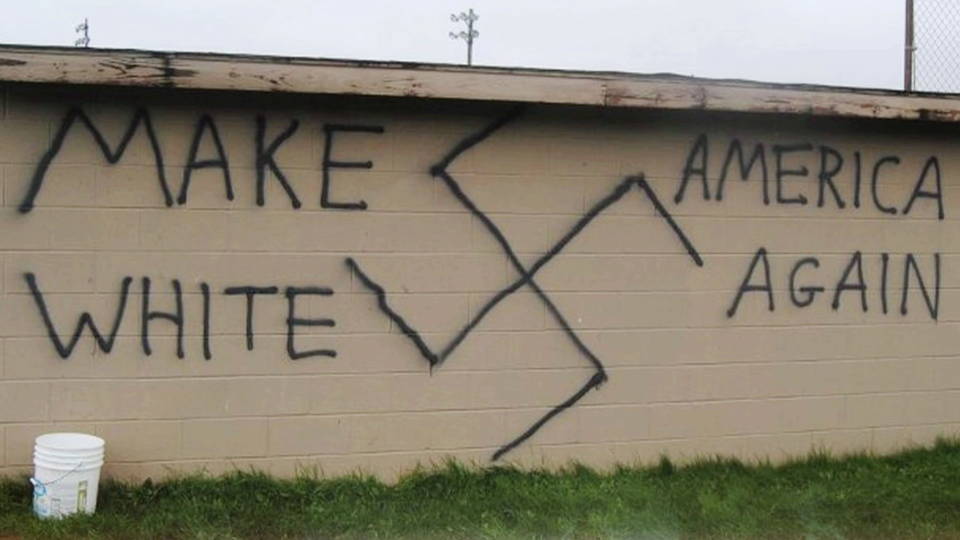 Hundreds of people of color nationwide have reported being physically and verbally attacked, harassed, threatened and insulted in the wake of Donald Trump's election Tuesday. At Southern Lehigh High School in Pennsylvania, students and the principal report white students calling their fellow black students "cotton pickers" and using the "heil Hitler" salute. At Royal Oak Middle School in Michigan, a video shows white students chanting "build a wall, build a wall." Another teacher posted on social media that a 10-year-old girl had to be picked up from school because a boy grabbed her vagina and then reportedly said that "if a president can do it, I can, too." Multiple women reported not wearing a hijab outside out of fear, while others reported hijabs being ripped from their heads while in public. In Woodland Hills, California, a 16-year-old girl told local media she was on her high school campus when a fellow student came up behind her and tried to rip her headscarf off her and then told her, "You shouldn't be wearing that, you towelhead. You're not American. This isn't America." On a college campus outside of Buffalo, New York, a black baby doll was found in an elevator with a rope around its neck, while in Wellsville, New York, a swastika and the words "MAKEAMERICA WHITE AGAIN" were spray-painted on a baseball dugout. Several LGBTQ suicide hotlines are reporting that the number of calls has risen significantly since Tuesday, and that hotlines are seeking additional volunteers.
TOPICS: