NOVEMBER 14, 2016
HEADLINES
Protests are growing across the United States following Tuesday's election. On Saturday, 10,000 people marched in New York City. Eight thousand more marched in Los Angeles, where 200 people were arrested. Protesters also took to the streets in Philadelphia; San Francisco; Oakland; Chicago; Oklahoma City; Salt Lake City; Springfield, Massachusetts; and in Dayton and Cincinnati, Ohio. In Portland, Oregon, police attacked protesters with pepper spray and flashbang grenades and arrested 71 people. One protester in Portland was also shot and wounded during a confrontation on a bridge that was blocked by the protests. In Traverse City, Michigan, a police officer was put on paid leave for intimidating protesters at a "Love Trumps Hate" rally by driving around the demonstration displaying a Confederate flag while he was off duty. This is Annette Alejandro at a protest in New York City Sunday.
Annette Alejandro: "I'm here to support everybody, to speak for my community, that's afraid, and they don't know where the country is going, and so together we could come up with a plan on what we can do next. A lot of things that are being talked about, and people are trying to reverse the laws that are in place, I'm very concerned about that, because I feel that would put our country back, and I feel that we should progress and be inclusive of everybody."
TOPICS:
Millions Call on Electors to Support Clinton, Who Is Winning Popular Vote by 2 Million
NOVEMBER 14, 2016
HEADLINES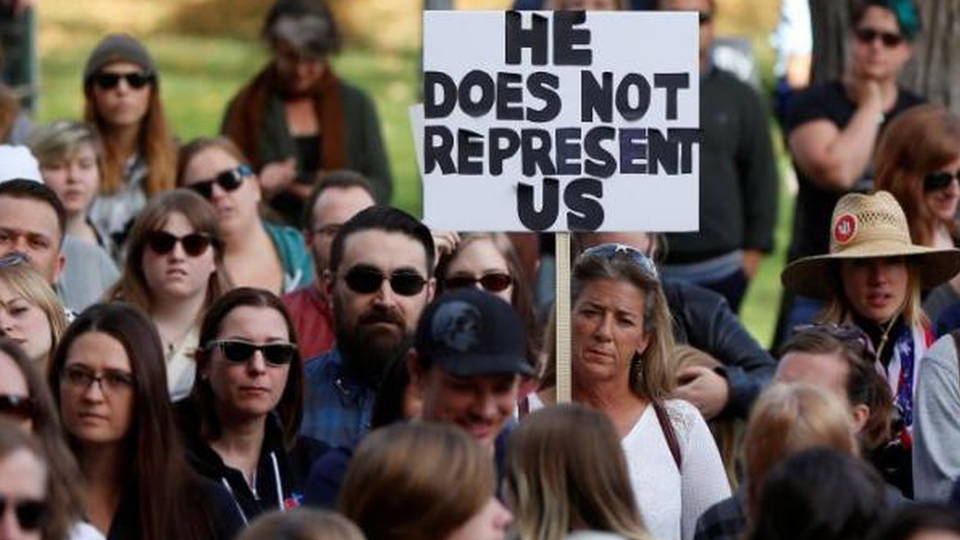 More demonstrations are being planned for the coming days, including a massive Women's March on Washington on January 21—the day after Trump's scheduled inauguration. More than 4 million people have also signed on to a petition calling on the electors of the Electoral College to cast their ballots not for Donald Trump but for Hillary Clinton, who is now projected to have won the popular vote by as many as 2 million more votes than Donald Trump. Clinton is the second Democratic presidential candidate in recent history to lose the Electoral College despite winning the popular vote—and she's projected to win the popular vote by an even greater margin than Al Gore did in 2000 against George W. Bush.
TOPICS: