NOVEMBER 14, 2016
HEADLINES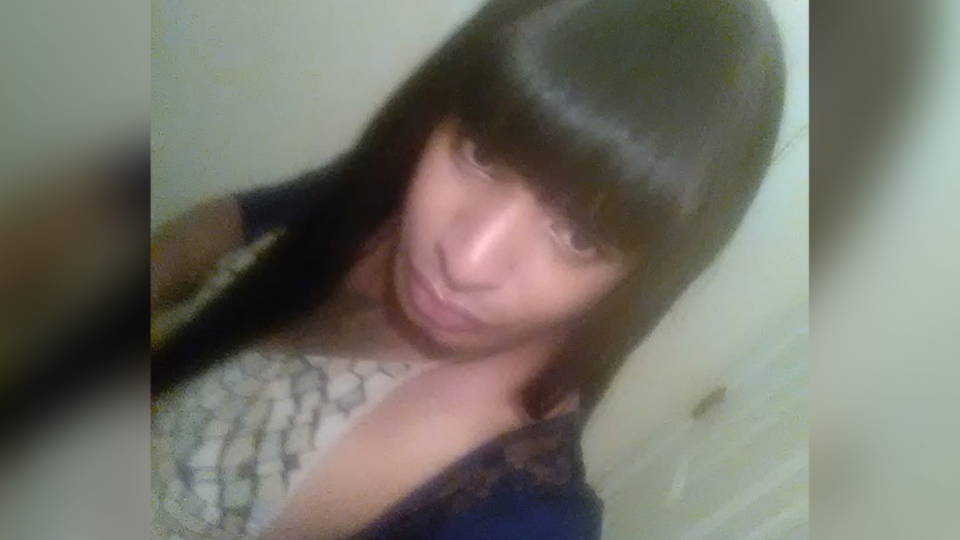 In Richmond, Virginia, 30-year-old transgender woman Noony Norwood has died, making her at least the 24th transgender woman killed this year, the deadliest year on record for transgender people in the United States. Norwood was shot early Sunday morning and died hours later in the hospital.
TOPICS:
Trump Picks Breitbart's Stephen Bannon as Chief Strategist
NOVEMBER 14, 2016
HEADLINES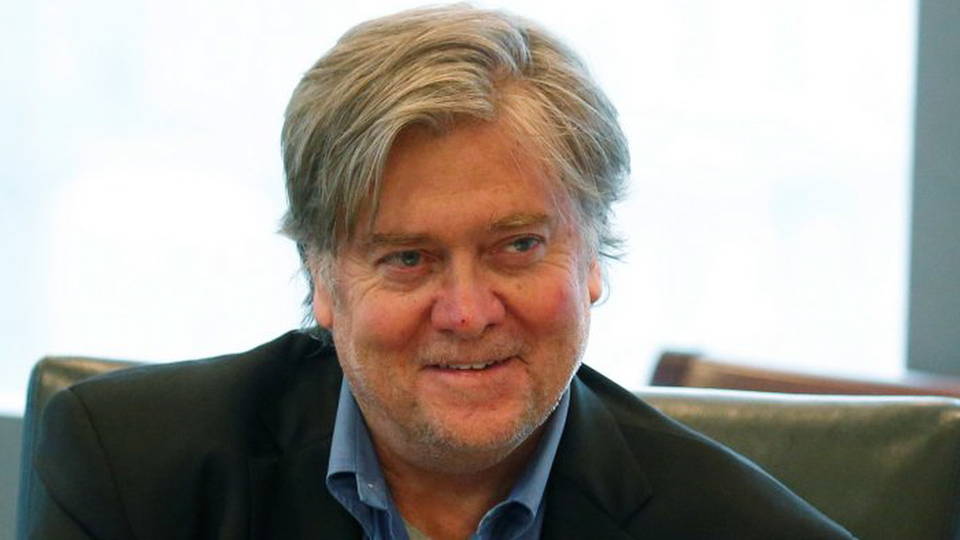 President-elect Donald Trump has named Stephen Bannon, his campaign chief and former head of the right-wing outlet Breitbart Media, to be his chief strategist, and Reince Priebus, chair of the Republican National Committee, to be his chief of staff. The two appointments represent the dramatically different strains of the Republican Party. While Reince Priebus is the long-standing head of the party, Stephen Bannon is a leader of the insurgent far right-wing "alt-right" movement, which has been widely criticized for being a haven for white nationalists. While running Breitbart Media, the outlet regularly sparked controversy with headlines such as "Birth Control Makes Women Unattractive and Crazy" or "Trannies Whine About Hilarious Bruce Jenner Billboard" and "Bill Kristol: Republican Spoiler, Renegade Jew." Bannon himself has faced questions about domestic abuse and anti-Semitic comments. He was charged in 1996 with misdemeanor domestic violence, battery and dissuading a witness. A Santa Monica, California, police report said Bannon grabbed his wife at the time, Mary Louise Piccard, "by the throat and arm" and threatened to leave with the couple's twin daughters. Bannon pleaded not guilty to the charges, which were dropped later that year when Piccard did not appear in court. Piccard claimed in divorce proceedings that Bannon pressured her not to testify. Piccard also said in a sworn 2007 court filing that Bannon made anti-Semitic comments when the two argued over whether to send their daughters to a private school. According to one document, Piccard talked about Bannon's feelings toward Jews, saying, "He said that he doesn't like the way they raise their kids to be 'whiny brats' and that he didn't want the girls going to school with Jews."
TOPICS:
In "60 Minutes" Interview, Trump Pledges to Deport Up to 3 Million People
NOVEMBER 14, 2016
HEADLINES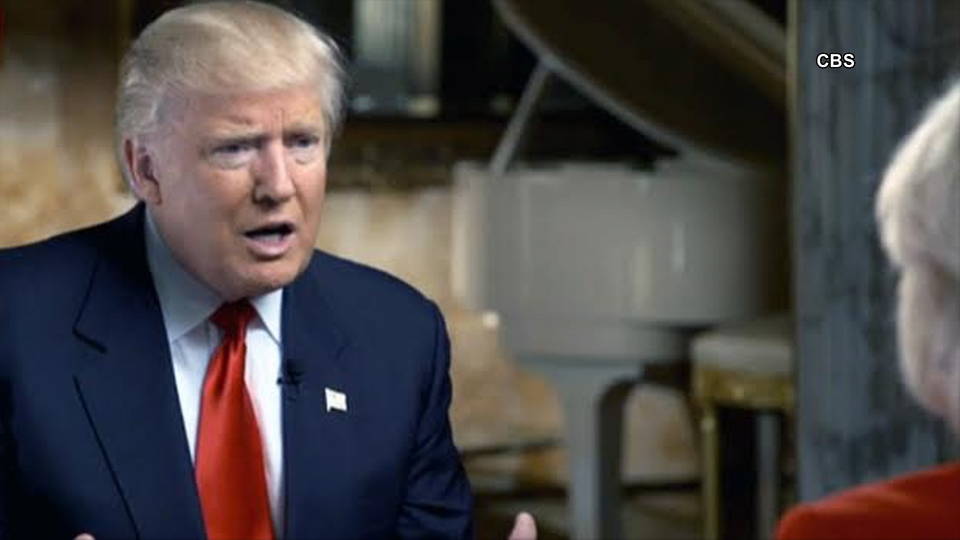 Trump also pledged to deport up to 3 million undocumented people during an interview with "60 Minutes" that aired Sunday. This is "60 Minutes" correspondent Lesley Stahl.
Lesley Stahl: "Let's go through very quickly some of the promises you made, and tell us if you're going to do what you said—"
Donald Trump: "OK, sure."
Lesley Stahl: "—or you're going to change it in any way. Are you really going to build a wall?"
Donald Trump: "Yes."
Lesley Stahl: "They're talking about a fence in the Republican Congress. Would you accept a fence?"
Donald Trump: "For certain areas, I would. But certain areas, a wall is more appropriate. I'm very good at this. This is called construction. But a fence will be—"
Lesley Stahl: "So, part wall, part fence?"
Donald Trump: "Yeah, it could be—it could be some fencing."
Lesley Stahl: "What about the pledge to deport millions and millions of undocumented immigrants?"
Donald Trump: "What we are going to do is get the people that are criminal and have criminal records, gang members, drug dealers—we have a lot of these people, probably 2 million, it could even be 3 million. We are getting them out of our country, or we're going to incarcerate. But we're getting them out of our country. They're here illegally."
TOPICS:
Philadelphia: Mexican Father of U.S.-Born Children Seeks Sanctuary from Deportation in Church
NOVEMBER 14, 2016
HEADLINES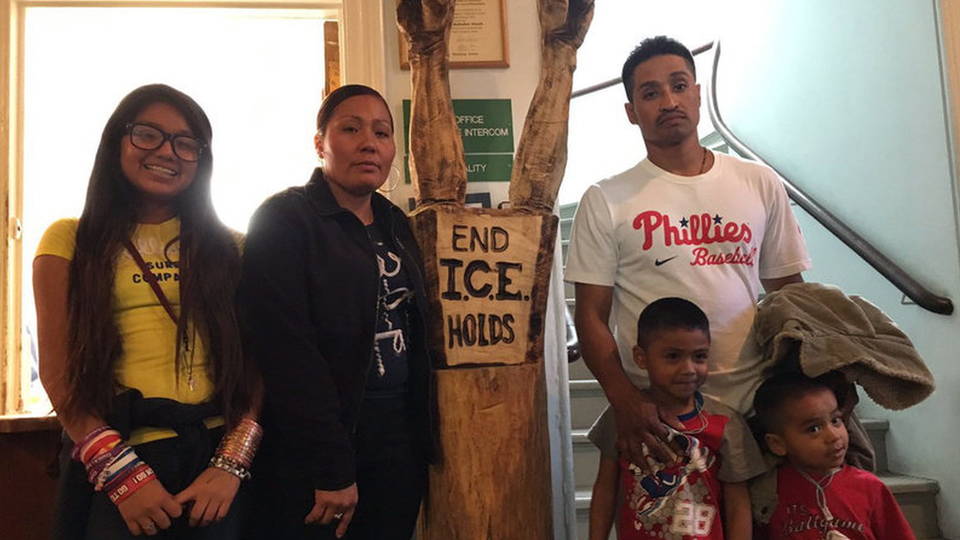 This comes as, in Philadelphia, Mexican immigrant Javier Flores, who is the father of three U.S.-born children, sought sanctuary from deportation in a church and called on President Obama to stop his deportation and others'. Mayors from New York to Seattle have said they won't cooperate with Trump's promise to deport millions of undocumented immigrants, even though Trump says he'll withdraw federal funding from such cities. Grassroots groups in multiple cities are also organizing anti-deportation self-defense networks.
TOPICS:
From Coast to Coast, Anti-Trump Protests Declare: "Not My President"
NOVEMBER 14, 2016
HEADLINES
Protests are growing across the United States following Tuesday's election. On Saturday, 10,000 people marched in New York City. Eight thousand more marched in Los Angeles, where 200 people were arrested. Protesters also took to the streets in Philadelphia; San Francisco; Oakland; Chicago; Oklahoma City; Salt Lake City; Springfield, Massachusetts; and in Dayton and Cincinnati, Ohio. In Portland, Oregon, police attacked protesters with pepper spray and flashbang grenades and arrested 71 people. One protester in Portland was also shot and wounded during a confrontation on a bridge that was blocked by the protests. In Traverse City, Michigan, a police officer was put on paid leave for intimidating protesters at a "Love Trumps Hate" rally by driving around the demonstration displaying a Confederate flag while he was off duty. This is Annette Alejandro at a protest in New York City Sunday.
Annette Alejandro: "I'm here to support everybody, to speak for my community, that's afraid, and they don't know where the country is going, and so together we could come up with a plan on what we can do next. A lot of things that are being talked about, and people are trying to reverse the laws that are in place, I'm very concerned about that, because I feel that would put our country back, and I feel that we should progress and be inclusive of everybody."
TOPICS:
Millions Call on Electors to Support Clinton, Who Is Winning Popular Vote by 2 Million
NOVEMBER 14, 2016
HEADLINES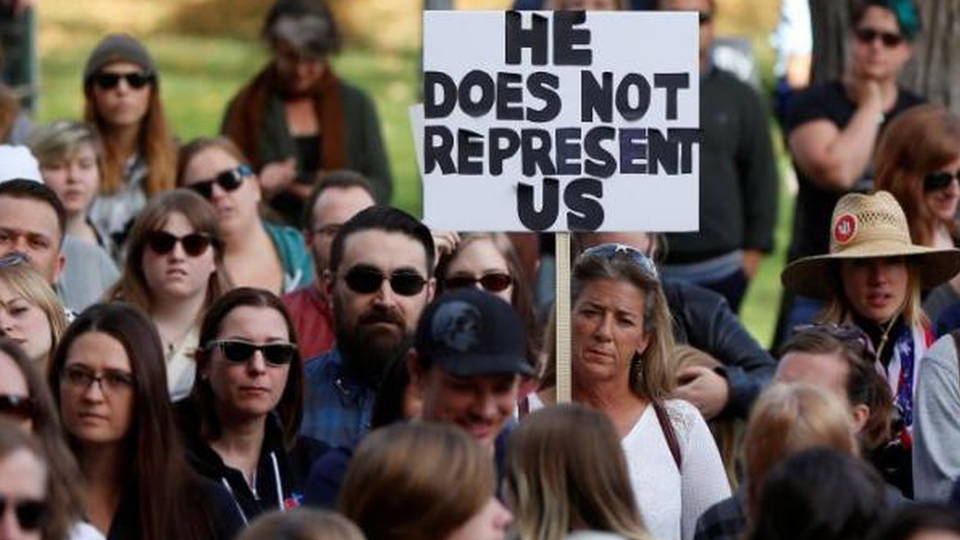 More demonstrations are being planned for the coming days, including a massive Women's March on Washington on January 21—the day after Trump's scheduled inauguration. More than 4 million people have also signed on to a petition calling on the electors of the Electoral College to cast their ballots not for Donald Trump but for Hillary Clinton, who is now projected to have won the popular vote by as many as 2 million more votes than Donald Trump. Clinton is the second Democratic presidential candidate in recent history to lose the Electoral College despite winning the popular vote—and she's projected to win the popular vote by an even greater margin than Al Gore did in 2000 against George W. Bush.
TOPICS:
Top Democrats Support Rep. Keith Ellison to Head Democratic National Committee
NOVEMBER 14, 2016
HEADLINES
The Democratic Party is looking to reorganize itself in the wake of Tuesday's election. On Sunday, outgoing Senate Minority Leader Harry Reid said he supports Minnesota Congressmember Keith Ellison to be the next head of the Democratic National Committee. Other top Democrats have also backed Ellison, including incoming Senate Minority Leader Chuck Schumer, Vermont Senator Bernie Sanders and Massachusetts Senator Elizabeth Warren. Congressmember Ellison is the first Muslim elected to Congress, and he's the co-chair of the Congressional Progressive Caucus.
200+ Cases of Harassment & Abuse of People of Color Since Trump Election
NOVEMBER 14, 2016
HEADLINES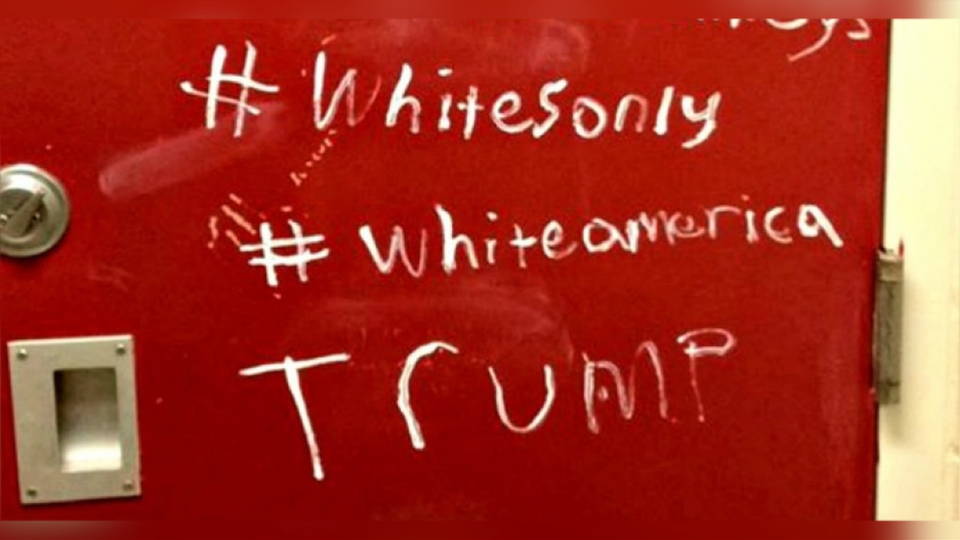 The Southern Poverty Law Center is reporting there have been at least 200 instances of physical and verbal harassment, abuse and intimidation against immigrants, people of color, Muslims and women in the wake of Tuesday's election. In one case reported to SPLC, a boy told a 12-year-old African-American girl at school: "Now that Trump is president, I'm going to shoot you and all the blacks I can find." A teacher in Washington state reported students chanting "Build a wall" in the cafeteria. The most commonly reported place where physical or verbal harassment occurred was in K-12 schools. This comes as school districts in Boston, St. Paul, Minnesota, and Denver, Colorado, have begun offering counseling services to students who are distraught and fearful both about Trump's election and the possibility of deportation, as well as the ensuing attacks, threats and harassment faced by students of color. We'll speak with Richard Cohen of the Southern Poverty Law Center later in the broadcast.
TOPICS:
Morocco: Thousands March for Climate Ahead of Second Week of COP 22
NOVEMBER 14, 2016
HEADLINES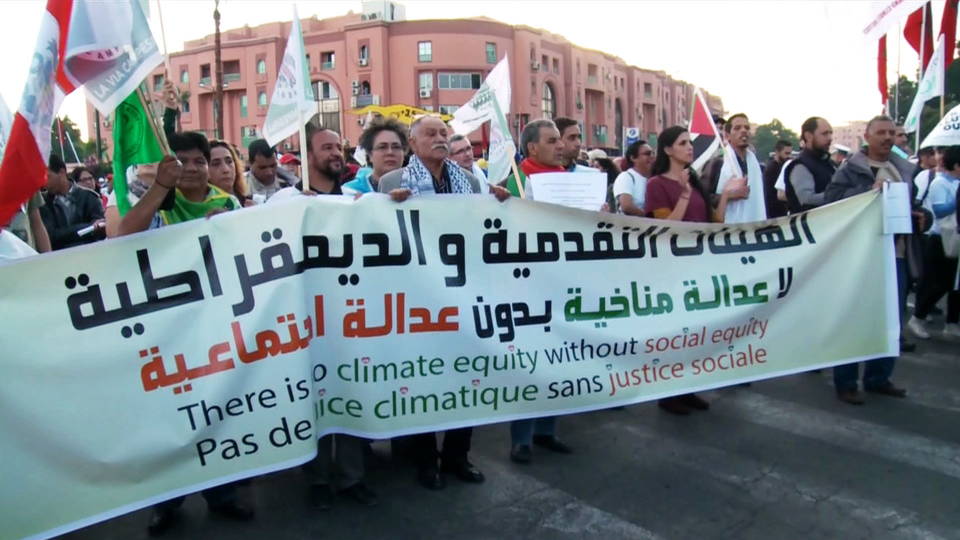 Here in Marrakech, Morocco, the second week of the 22nd United Nations climate change conference has just begun. On Sunday, thousands marched for climate justice here in Marrakech. The conference has been jolted by the election of Donald Trump in the United States, who has vowed to "cancel the Paris climate agreement and stop all payments of U.S. tax dollars to U.N. global warming programs." Speaking in Morocco, French Environment Minister Ségolène Royal called Donald Trump's climate plan "absolutely catastrophic."
Ségolène Royal: "I think if such decisions are taken, it would be absolutely catastrophic, so I dare to believe that such things are campaign promises to please a certain electorate, which has not understood that global warming is a reality, or to answer the oil and fossil energy lobbies. I think that when he actually takes office, he will see that withdrawing from multilateral negotiations and climate issues would weaken the United States."
We'll bring you more on the COP 22 and voices from the climate justice march here in Marrakech later in the broadcast.
TOPICS: