By Kevin Stoda
Last night, as I was heading home at about half-past six last night, I came across many hardworking students from SCT preparing for today's events. SCT students from the English Department (under the aegis of our English Language Forum), the Business Club, the IT Club and the Engineering Club were preparing for today's National Day event in the Learning Center downstairs in the ELC Building.
Early in the same day, I was asked to help write-up some speeches with a variety of photo by some of the English Language Forum Committee.  The theme of the writing was contrasting changes of the past 46 years in Oman, since Sutlan Qaboos took over from his father in 1970.
 SUMMARY
In the old days, Oman was famous for its ships and forts.  The ships traded far and wide.  The forts protected Oman from attacks and helped provide stability.
Travel by both boat and camels were slow and arduous journeys.  Information traveled slowly and people enjoyed a slower pace of life.  The journey to Muscat too many days and weeks.
Today, we travel to Muscat in about two hours by planes, leaving the camels and boats far behind.  We also travel by cars, SUVs, and buses from one corner of the land to another.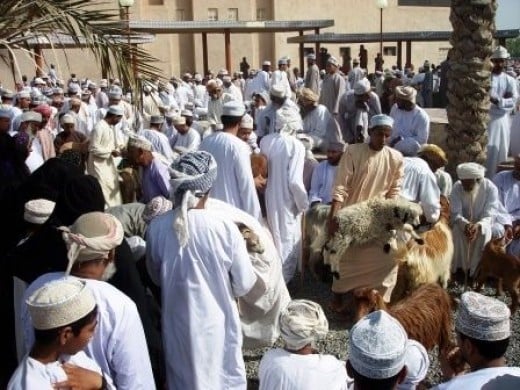 In the old days,  one of the big social events was going out to the traditional souqs for shopping.
Now, we go shopping in Oman's malls and modern shopping centers.
In the old days, if children went to schools, sometimes classes were held outside, even under the shade of the trees.
In traditional Oman, communication and learning about the world was done at a leisurely pace.  Guests or travelers brought news from afar.  They were invited to sit and tell Omanis stories over a cup of traditional coffee or tea.  We read only the rare book, magazine, or newspaper.
Now, we communicate with computers and smart phones with people all across Oman and around the world. Technology is now changing so fast and we learn many new things on the Internet.
In schools we learn by computers and we learn by doing—not only through books and the printed word.
Life and our world are changing but we try to keep our traditions and ways.
We still often wear traditional clothes and shop sometimes in traditional souqs.
For example, Dhofar and Oman are still famous for its Frankincense or Luban.
Oman and the Omani people do not wish to forget the past.  Maintaining historical buildings, like Oman's ancient forts and souqs are to be maintained.
These sites have played an important role in our history.  We wish to share this history and culture with the new industry of modern tourism.
Renovation of old structures are important to us as our the holiday and special traditions of families gathering together.
We promote our traditional foods and still share as our forefathers did.
Meanwhile, women have had their rights, education, and activities promoted as never before in Oman.
Our health care systems, too, have improved greatly over the times of our great grandparents.   Where thousands died every year of mundane diseases and illnesses, Omanis now live much longer thanks to the changes.
Omanis, too, are much better educated and trained than their forefathers.  Some have become CEOs, doctors, and ministers of the state.
Many Omani's have become teachers, too.  They pass down the history of Oman to our children.
Likewise, some Omanis keep the traditional jobs like fishing or camel raising.
Other Omanis maintain their skills in arts and crafts and pass these down to their children or share them in public ways so that tourists can appreciated their efforts.
We are both proud of our heritage and appreciate the past century in Oman.    We also enjoy the positive changes that have come our way through reforms and  developments of the past.