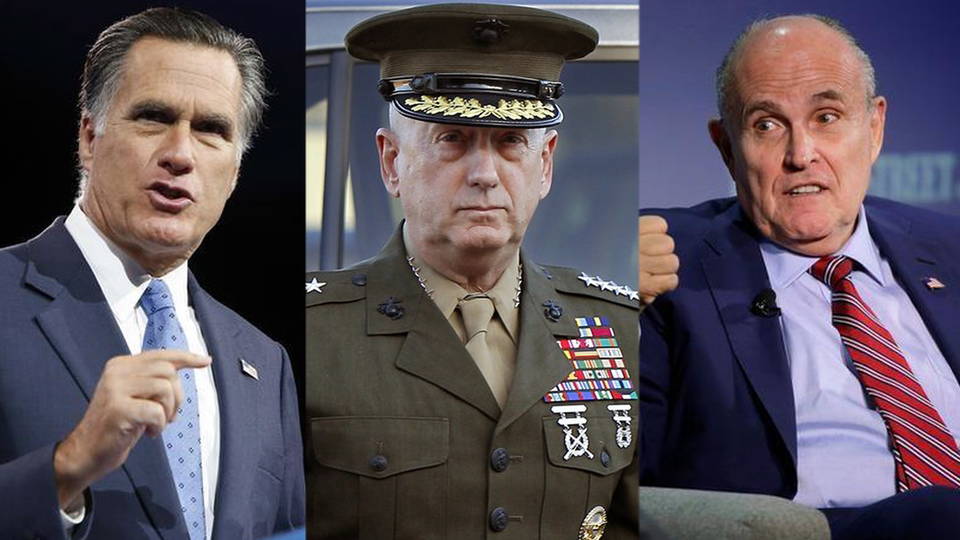 President-elect Donald Trump held meetings with finalists for high-level Cabinet positions at the Trump National Golf Club in Bedminster, New Jersey, over the weekend. Among those who were paraded in front of reporters were retired Marine General James Mattis, who is considered a contender for defense secretary, and former New York City Mayor Rudolph Giuliani and former Massachusetts governor and 2012 Republican presidential nominee Mitt Romney, who are both considered to be finalists for the secretary of state position. Mattis is a former commander of United States Central Command. Giuliani was the architect of New York City's stop-and-frisk program, which disproportionately targeted people of color and was later ruled unconstitutional. Giuliani has also called for measures to force Muslims on the government's terrorism watch list to wear electronic tracking bracelets, and boasted about how he sent undercover NYPD officers to infiltrate mosques. He's been a major supporter of Donald Trump. Romney, meanwhile, has been a critic of Trump. He, along with other Republican Party leaders, skipped the Republican National Convention this summer. This comes after Donald Trump announced he'd picked three far-right-wing white men for top-level positions on Friday. Alabama Senator Jeff Sessions was picked to be attorney general. Lt Gen. Michael Flynn is to be Trump's national security adviser. And Kansas Congressmember Mike Pompeo is to be CIA director. We'll have more on Trump's Cabinet after headlines with The Intercept's Jeremy Scahill.
"Hamilton" Cast Addresses Mike Pence from NYC Stage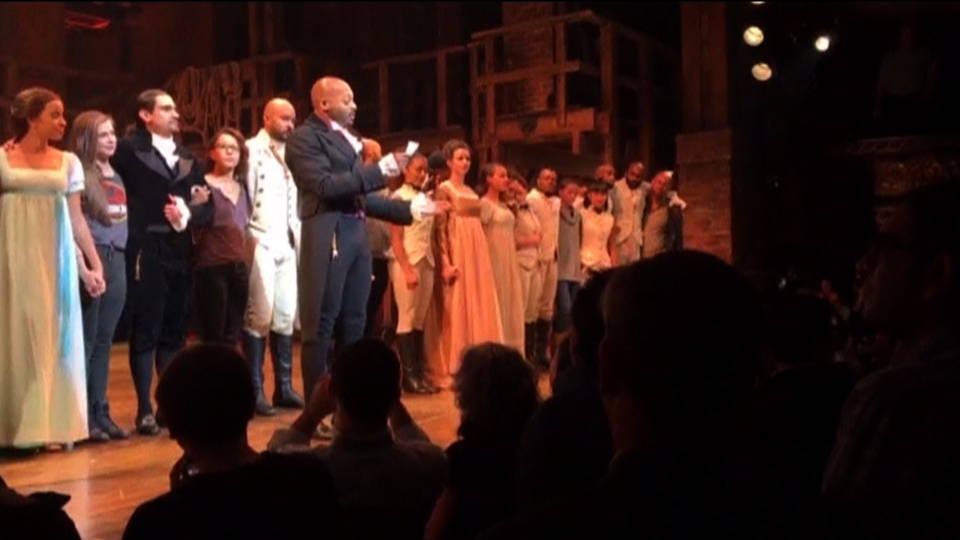 Donald Trump and his vice president-elect, Mike Pence, faced criticism from celebrities and artists over the weekend, starting with the cast of the award-winning Broadway musical "Hamilton." On Friday, Pence attended the Broadway hit in New York City. At the end of the show, actor Brandon Victor Dixon, who plays Aaron Burr in the rap musical about America's Founding Fathers, had a message for Pence.
Brandon Victor Dixon: "Vice President-elect Pence, we welcome you, and we truly thank you for joining us here at 'Hamilton: An American Musical.' We really do. We, sir, we, are of the diverse America who are alarmed and anxious that your new administration will not protect us, our planet, our children, our parents, or defend us and uphold our inalienable rights, sir. But we truly hope that this show has inspired you to uphold our American values and to work on behalf of all of us. All of us."
Donald Trump later took to Twitter to demand an apology from the cast of "Hamilton," saying, "Our wonderful future V.P. Mike Pence was harassed last night at the theater by the cast of Hamilton, cameras blazing. This should not happen!"
Green Day at American Music Awards: No Trump, No KKK, No Fascist USA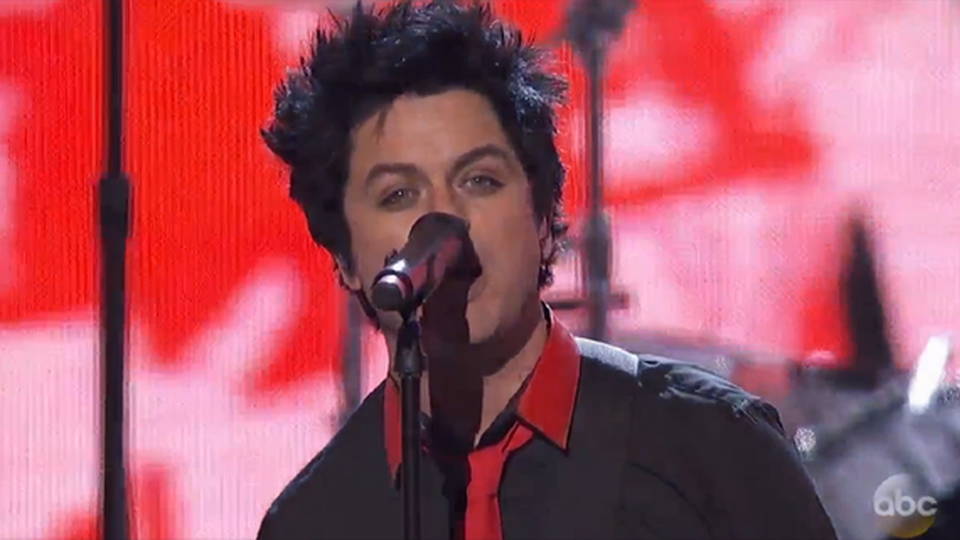 Meanwhile, Trump was also criticized on Sunday night at the American Music Awards by the band Green Day, who chanted on stage "No Trump, No KKK, No Fascist USA."
Green Day: "No Trump, No KKK, No Fascist USA! No Trump, No KKK, No Fascist USA!"
Trump was also skewered in a "Saturday Night Live" skit in which comedian Alec Baldwin portrayed Trump as overwhelmed by his campaign promises, which include mass deportations, building a wall across the entire length of the U.S.-Mexico border and creating a Muslim registry. In response, Trump again took to Twitter to complain, writing, "one-sided, biased show—nothing funny at all."
At White Supremacist Meeting: Nazi Salutes, Heil Hitler Chants and Celebrations of Trump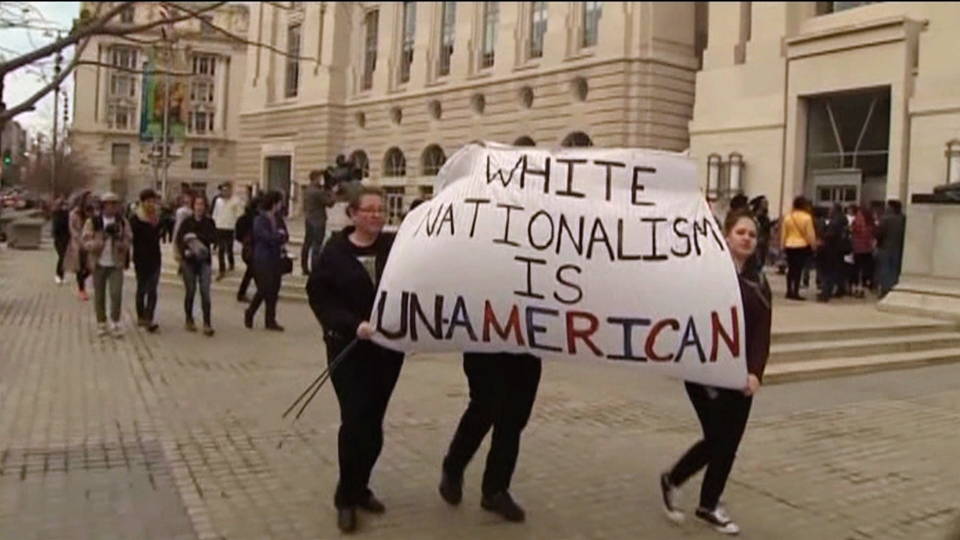 In Washington, D.C., hundreds of people protested outside of a white nationalist conference in which white supremacists and other members of the "alt-right" movement gathered to celebrate Donald Trump's victory. The gathering was held at the Ronald Reagan Building and International Trade Center. Inside, white supremacist Richard Spencer, a leader of the alt-right movement, recited Nazi propaganda in original German and said, "America was, until this last generation, a white country designed for ourselves and our posterity." Multiple people performed the Nazi salute after his speech and chanted "Heil the people! Heil victory!" When asked by The New York Times about Donald Trump, Spencer said, "I do think we have a psychic connection, or you can say a deeper connection, with Donald Trump in a way that we simply do not have with most Republicans."
Trump Settles Trump University Lawsuit for $25 Million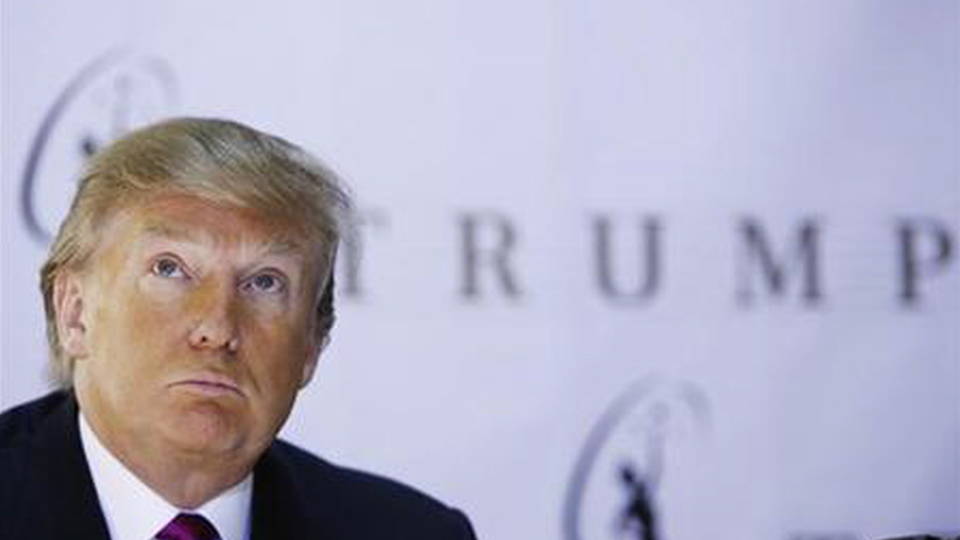 On Friday, Donald Trump agreed to pay $25 million to settle a lawsuit alleging that he and his defunct for-profit Trump University had defrauded thousands of students. The settlement comes after Trump tried to postpone the lawsuit until after his inauguration and exclude as evidence everything he had said, including in speeches and in tweets. The deal reached Friday means Trump avoids having to testify in the case.
Standing Rock: 100+ Injured After Police Attack with Water Cannons, Rubber Bullets & Mace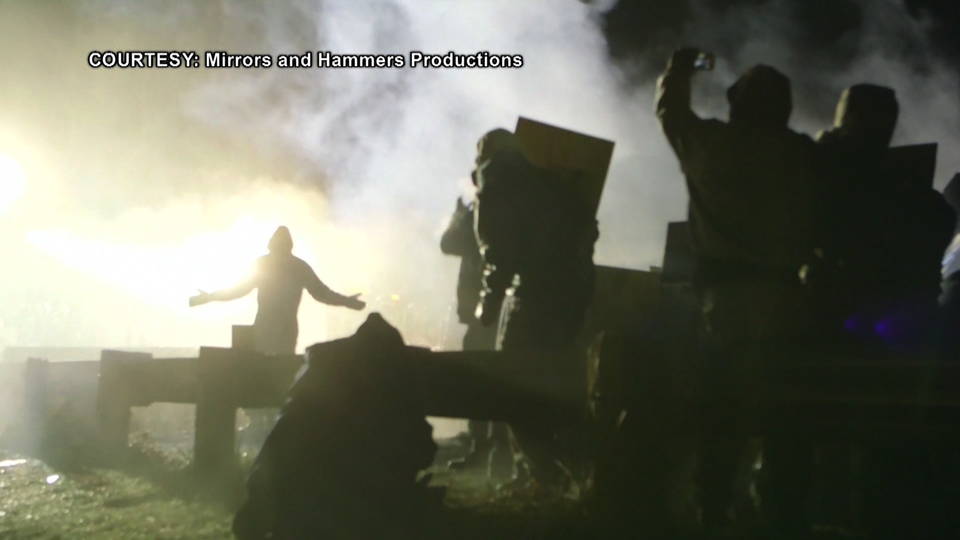 In North Dakota, more than 100 Native Americans and allies fighting the $3.8 billion Dakota Access pipeline have been injured by police, who attacked them with rubber bullets, tear gas, mace canisters and water cannons in freezing temperatures Sunday night. The attack was on a bridge near the main Oceti Sakowin resistance camp. It began after the water protectors attempted to clear access to the public bridge, which has been blocked by authorities using military equipment chained to concrete barriers. Medics on scene say multiple people were shot by rubber bullets.
Leland Brenholt: "My name is Leland Brenholt. I'm a medic here at Oceti Sakowin. And we have seen at least four gunshot wounds, three of them I know of to the face and head. Rubber bullets. Right now we're trying to keep people warm. We're trying to get them decontaminated, and treating all kinds of different wounds. People have been hit with canisters in the chest or the leg and that sort of thing."
Water protectors say the police also fired rubber bullets at journalists, shot down drones being used to document the attack and fired flares which ignited grass fires. Legal observers with the National Lawyers Guild said multiple people temporarily lost consciousness after being shot. Witnesses say one elder also went into cardiac arrest and was revived on scene by medics. Both the Standing Rock Sioux Tribe and the Cheyenne River Sioux Tribe sent medical first responders. This is Angela Bibens, a lawyer with the Red Owl Legal Collective, speaking in a telephone interview recorded by Dallas Goldtooth Sunday.
Angela Bibens: "Right now we've seen people who have been maced. They deployed 20 mace canisters in a small area in less than five minutes, to the point where people have lost bowel function. At least one seizure has been witnessed at the front lines by our legal observation team. There have been people vomiting from the exposure to the mace. The water cannon has been mixed with the mace, and so even our legal observers have been exposed and are trying to deal with that while they're doing up their notes. And canisters were shot at the medic area at the front line. There is at least one woman who has a broken kneecap. At least one elder went into cardiac arrest and was revived through CPR at the front line by medics."
4 Arrested Protesting AIM Pipeline in New York State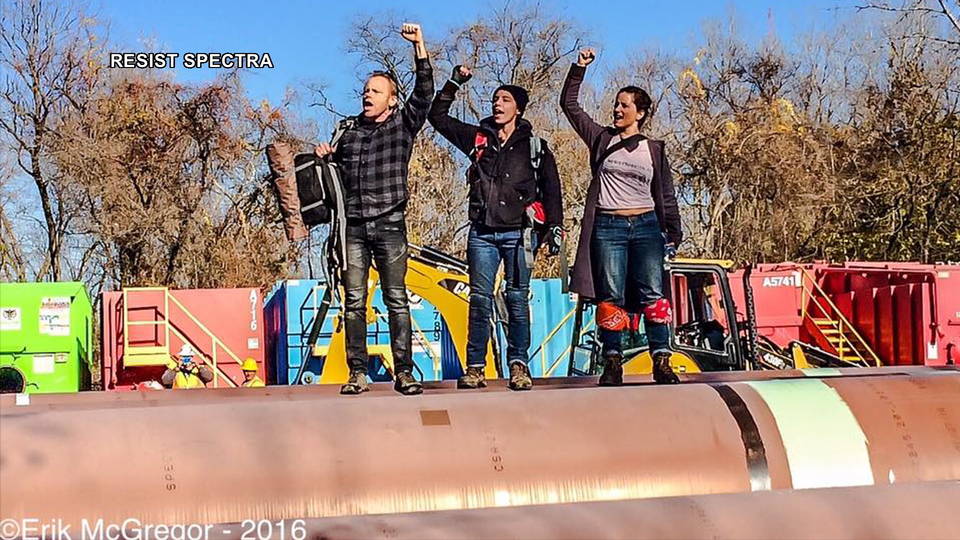 In New York state, four people were arrested Saturday protesting the construction of Spectra Energy's AIM pipeline. The pipeline is slated to carry fracked gas only hundreds of feet from the aging Indian Point nuclear power plant and then under the Hudson River. The arrests came as more than 100 activists rallied at a construction site in Verplanck, New York. The pipeline has faced years of resistance from residents in New York state and Rhode Island.