"What Has He Been Smoking?": Fmr. Swedish PM on Trump's Suggestion of Attack in Sweden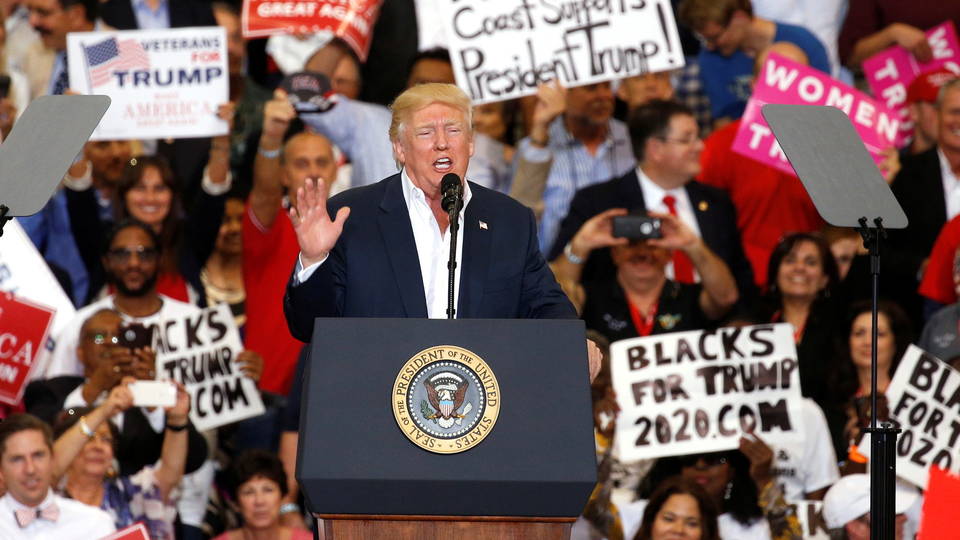 Trump continued to escalate what he calls his "war on the media" during a 2020 campaign rally in Florida on Saturday, only one day after he tweeted that the media is "the enemy of the American people." This is Trump speaking in front of a crowd of about 7,000 in Melbourne, Florida.
President Donald Trump: "Thomas Jefferson, Andrew Jackson and Abraham Lincoln and many of our greatest presidents fought with the media and called them out oftentimes on their lies. When the media lies to people, I will never, ever let them get away with it. I will do whatever I can that they don't get away with it. They have their own agenda. And their agenda is not your agenda."
In fact, while Jefferson often lambasted the press, he also believed it was fundamental to democracy, famously writing in 1823 to the Marquis de Lafayette, "The only security of all is in a free press." Trump lied or misrepresented statistics repeatedly during Saturday's campaign rally, including by claiming credit for jobs that were created under the previous Obama administration; once again exaggerating the U.S. crime rate; and lying that refugees admitted to the U.S. are not vetted, when in fact they are vetted in an extensive process that takes two years. During his speech, Trump also appeared to invent an imaginary terrorist attack in Sweden.
President Donald Trump: "Here's the bottom line: We've got to keep our country safe. You look at what's happening. We've got to keep our country safe. You look at what's happening in Germany. You look at what's happening last night in Sweden. Sweden, who would believe this? Sweden."
This comment sparked widespread ridicule and criticism, including from former Swedish Prime Minister Carl Bildt, who tweeted, "Sweden? Terror attack? What has he been smoking? Questions abound." Trump later said his Sweden comment was in response to a Fox News story he'd watched the night before about alleged refugee-related crime. Sweden's crime rate has fallen over the last decade, even as it has accepted hundreds of thousands of refugees, including from Syria.