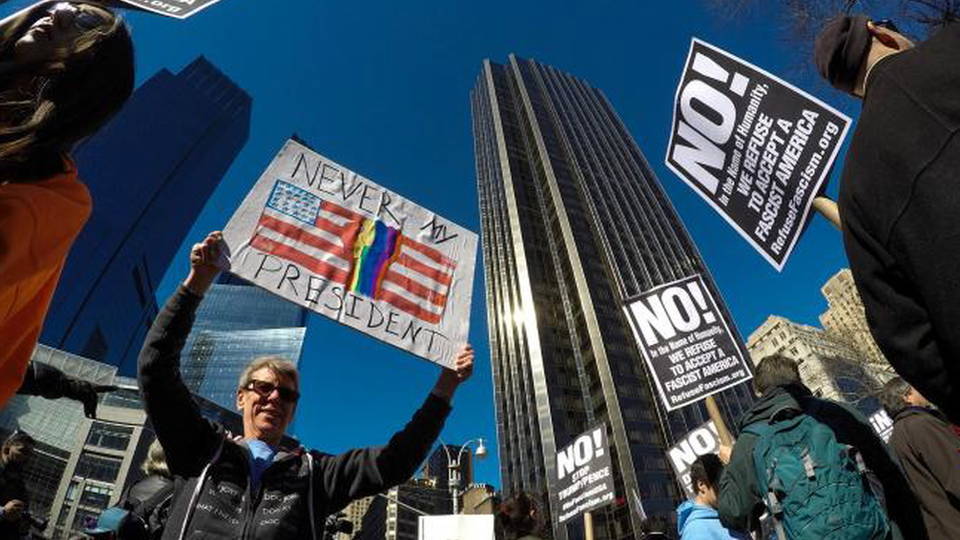 Not My President's Day: That was the rallying cry nationwide as thousands took to the streets of major U.S. cities Monday for another mass day of action against President Trump. In Los Angeles, thousands gathered at City Hall to protest Trump's policies on immigration, trade and climate change. In Portland, Oregon, police in riot gear fired pepper spray and arrested 13 people at a protest outside a federal building. Thousands more took to the streets of Chicago, Philadelphia, Miami, Atlanta, Denver, Austin, Washington, D.C., and elsewhere. In New York, protesters filled several blocks along Central Park outside Trump Tower, where thousands called for an end to Trump's crackdown on immigrants.
Blanca: "My name is Blanca, and I'm here for all immigrants, because I am the daughter of a wonderful Mexican immigrant, who worked really hard with my father to raise my brother and I and make us the great Americans that we are. And I feel that this country is made up of all immigrants, and it belongs to all immigrants. And why they want them out now is beyond me. I just don't understand it. And obviously our president does not understand that either."
Monday's "Not My President's Day" protests cap off a week of mass actions against Trump and his policies, which also included nationwide protests by fast-food workers against former labor secretary nominee Andrew Puzder last Monday, a 20,000-person rally in Milwaukee in support of immigrants and refugees on Tuesday, more than a dozen "Day Without Immigrants" protests nationwide Thursday, the February 17 General Strike Friday and widespread protests against Trump in major U.S. cities over the weekend.
Brits Protest Against Trump as Lawmakers Debate Canceling His State Visit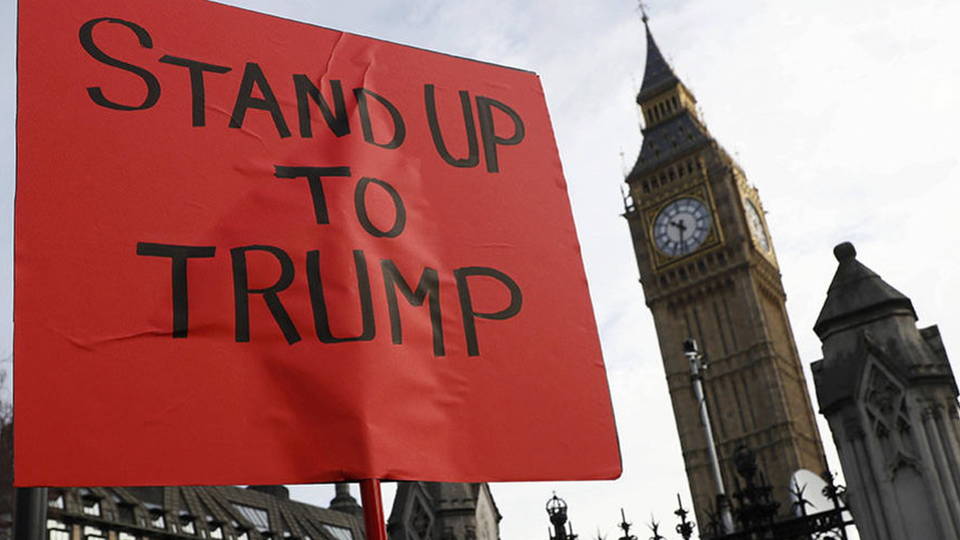 In Britain, thousands of people filled Parliament Square Monday to voice their opposition to President Trump, as lawmakers debated whether to cancel his state visit. This is Parliament member Paula Sherriff.
Paula Sherriff: "Does he agree that to use the expression 'Grab 'em by the pussy' describes a sexual assault, and therefore suggests that he shouldn't be afforded a visit to our queen?"
Paul Flynn: "Entirely agree. I mean, his manner, his behavior throughout the election period of one that's greatly worrying."
And that's British Parliament member Paul Flynn, agreeing that Trump's comments captured in a 2005 NBC "Access Hollywood" video constitute him bragging about sexual assault. Nearly 2 million Brits have signed a petition calling on President Trump's official state visit to be canceled, arguing it would cause embarrassment to the queen. We'll go to London later in the broadcast.
TOPICS: