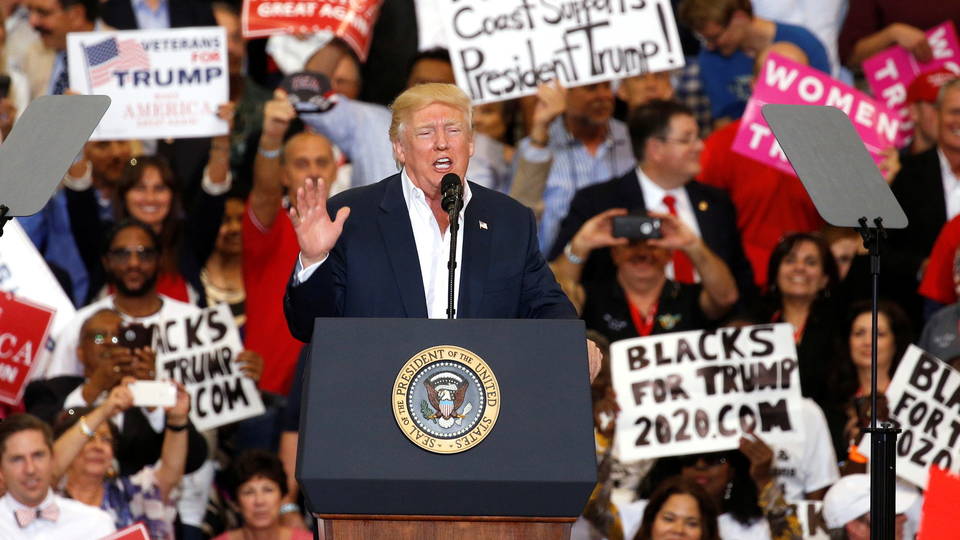 President Trump is doubling down on his false claim that Sweden is struggling with immigration-related security problems, after he faced widespread criticism and ridicule for appearing to invent a terrorist attack in Sweden while speaking at a 2020 campaign rally in Melbourne, Florida, on Saturday.
President Donald Trump: "Here's the bottom line: We've got to keep our country safe. You look at what's happening. We've got to keep our country safe. You look at what's happening in Germany. You look at what's happening last night in Sweden. Sweden. Who would believe this? Sweden."
Former Swedish Prime Minister Carl Bildt responded to Trump's claim by tweeting, "Sweden? Terror attack? What has he been smoking? Questions abound." Trump later said his comment was in response to a Fox News story he'd watched the night before about alleged refugee-related crime. Sweden's crime rate has fallen over the last decade, even as it has accepted hundreds of thousands of refugees, including from Syria. On Monday, Trump tweeted, "Give the public a break–The FAKE NEWS media is trying to say that large scale immigration in Sweden is working out just beautifully. NOT!" Swedish Prime Minister Stefan Löfven responded to Trump's claims by highlighting that many things in Sweden are, in fact, working "very well."
Prime Minister Stefan Löfven: "Do not forget that in international rankings in issues such as equality, human development, competitiveness, we, like our guest today from Canada, are doing very well."
We'll go to Sweden for more on this story later in the broadcast.
TOPICS:
Donald Trump was elected the 45th president of the United States on Nov. 8, 2016. He has … Trump'sstatements were awarded PolitiFact's 2015 Lie of the Year. Born and … See them all → …. 2017 • AllRights Reserved • Tampa Bay Times.
Feb 11, 2017
Senator Bernie Sanders Town Hall (14 Videos) … Checking Bernie Sanders on confirmation precedent …
Those who have followed Trump's career say his lying isn't just a tactic, but an … Lies are exhausting to fight, pernicious in their effects and, perhaps worst of all, … As Gilbert writes, human minds, "when faced with shortages of time, energy, …
Jan 24, 2017 – Team Trump gets away with so many whoppers because they embrace this one political truth, says Professor John Barry Ryan.
https://www.ny
times
.com/2017/01/09/…/
trump
-trapped-in-his-
lies
-keeps-
lying
-sad.html
Jan 9, 2017 – Mr. Trump's target was Serge Kovaleski, of The Times, who has … It all goes back to Mr.Trump's baseless claim that he saw Muslims dancing in …
Feb 3, 2017 – The second week of Donald Trump's presidency has seen him lie about his … party," Trumpgot in on the action by decrying the New York Times a … of federal terrorism after they sent weapons and money to Al Qaeda to help …
Jan 23, 2017 – This spectacle of obvious lies being peddled by the White House is a tragedy for US … MrTrump is undoing all that good work in days. He is in …
Jan 26, 2017 – Let's tally up the lies and distortions, one by one: … 3) Trump said this about all of the people who he falsely claims voted …. BAN: The New York Times observes this about the new Trumpexecutive order discussed above:.
Jan 2, 2017 – When Donald Trump lies, is he telling a lie? … And I do think also it applies — this is happening all the time now, people are looking at Donald …
Jan 26, 2017 – The truth: The US murder rate is at close to an all–time low, and law enforcement experts say Trump's claim is so far away from the facts that it's …
Apr 3, 2016 – It's a proven fact that Donald Trump lies 76% of the time. It's All Downhill ForTrump As Fact Checkers Find He Lied About Battered Journalist
Dec 29, 2016 – When the New York Times famously broke with precedent and called Trump'sbirtherism a "lie" in a front page headline, executive editor Dean Baquet explained