Top Trump Adviser Steve Bannon Makes Rare Appearance at CPAC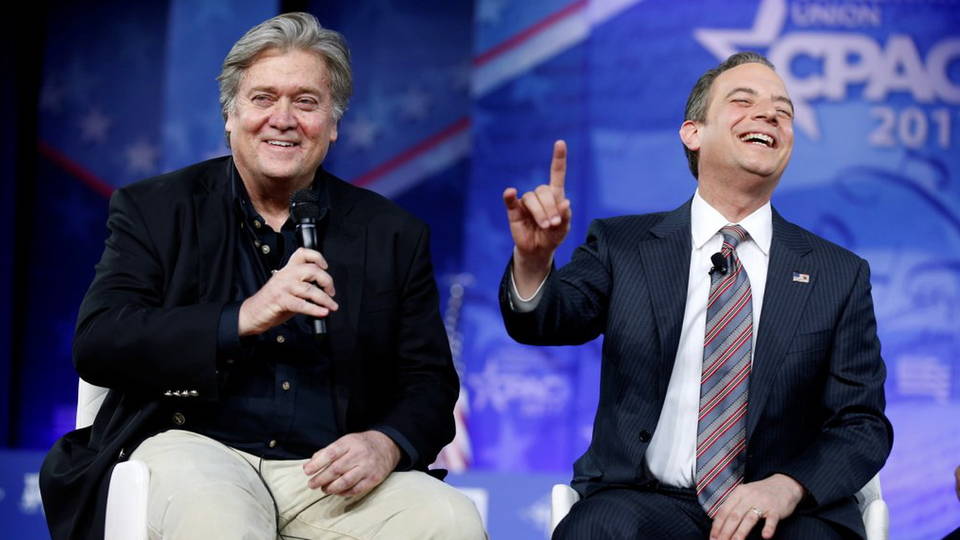 White House chief strategist Stephen Bannon made a rare public appearance Thursday at the Conservative Political Action Conference, or CPAC. Speaking alongside White House Chief of Staff Reince Priebus, Bannon admitted that many of President Trump's Cabinet picks were selected to head agencies whose mission they oppose.
Stephen Bannon: "The third, broadly, line of work is what is deconstruction of the administrative state. If you look at these Cabinet appointees, they were selected for a reason, and that is the deconstruction. The way the progressive left runs is that if they can't get it passed, they're just going to put it in some sort of regulation in a—in an agency. That's all going to be deconstructed. And I think that that's why this regulatory thing is so important."
Stephen Bannon is the former head of Breitbart Media, a far-right website which frequently publishes racist, sexist, anti-immigrant and xenophobic news. His appearance at CPAC came as officials expelled white nationalist Richard Spencer from the conference on Thursday. A CPAC spokesperson called Spencer's views "venomous," "horrible" and "repulsive." Breitbart has previously praised Spencer, calling him one of the leading "intellectuals" of the so-called alt-right movement.