Will Trump be fair and put 100% tax on on military contractors' profits???  Trump has no plan.  He just wants to throw money around–at ALL OF OUR EXPENSIVE.–kas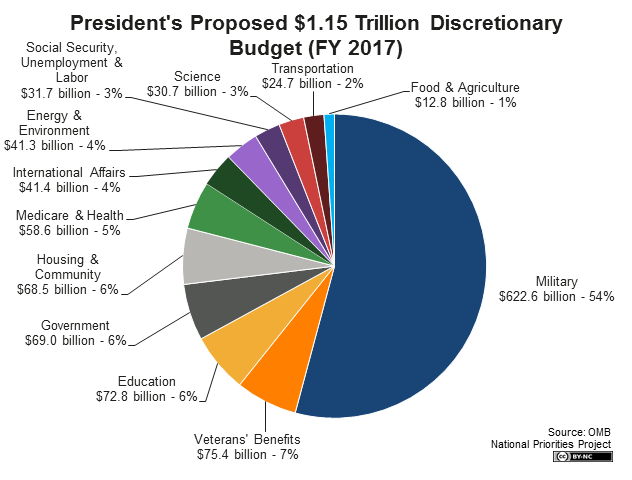 "Well, look, there is no grand strategy here. It's unclear to what purpose all this money will be put. And anyone who calls for even more spending, I think, is missing the point. The United States has this year a military budget of $583 billion. Adding $54 billion will take us well into the $600 billion a year. Absent a grand strategy for this increase, what is it to be spent on? It will just, in fact, hurt the United States domestically and abroad, I think, make us more insecure."–Neta Crawford, co-director of the Costs of War Project and a professor of political science at Boston University.
The Iraq and Afghanistan wars have contributed to significant economic setbacks in the United States, through lost opportunities for investment in public infrastructure and services and higher borrowing rates. Contrary to the widespread belief that war is a particularly effective way to create jobs, US federal spending on the current wars would have led to more jobs had the money been invested instead in education, health care, or home weatherization.
Similarly, the hundreds of billions of dollars invested in military assets such as ships and aircraft during the first decade of the wars would have led to larger capital improvements had these dollars instead been invested in core public economic infrastructure, such as roads and water systems.
The wars have also impacted interest rates charged to borrowers by banks and other creditors. This is the result of war spending financed entirely by debt, which has contributed to a higher ratio of national debt to Gross Domestic Product (GDP), and subsequent rising long-term interest rates.
Each of these issues can be counted as a significant cost of the post-9/11 wars.
"[I]n fact, the United States could decrease its military spending by 10 percent, 20 percent, in fact, and be just as safe, probably more safe.–Neta Crawford, co-director of the Costs of War Project and a professor of political science at Boston University.
Read and listen to more here:
2 days ago – 27 said he would propose a budget that would ramp up spending on defense, but … 2017anticipated spending for items below: $3.791 trillion.
1 day ago – President Donald Trump's first budget proposal will look to increase … signs three executive actions in the Oval Office on January 28, 2017.
crfb.org/papers/analysis-president's-fy-2017-budget
The President has released his final budget today, laying out his priorities and proposals for fiscal year2017 and years to come. The budget includes proposals …
Feb 17, 2016 – President Obama recently released his fiscal year 2017 budget proposal. And one thing we know about budgets is that they are all about …
Aug 15, 2016 – OFFICE OF THE PRESIDENT. President Rodrigo Duterte's office will be getting a budget 8 times larger in 2017 should the proposed budget be …
1 day ago – President Donald Trump will propose boosting defense spending by $54 … Sun Feb 26 201717:15:09 GMT-0800 (PST) Mon Feb 27 2017 …
Jump to main content. Jump to navigation. the WHITE HOUSEPresident Donald J. Trump. Get in Touch … Office of Management and Budget. February 13, 2017 …
Jump to Budget proposals – The President's proposed budget for 2017 proposes spending 4.2 trillion and raising 3.6 trillion in tax revenue. The President's …