Trump Touts His Nationalistic Vision in First Address to Congress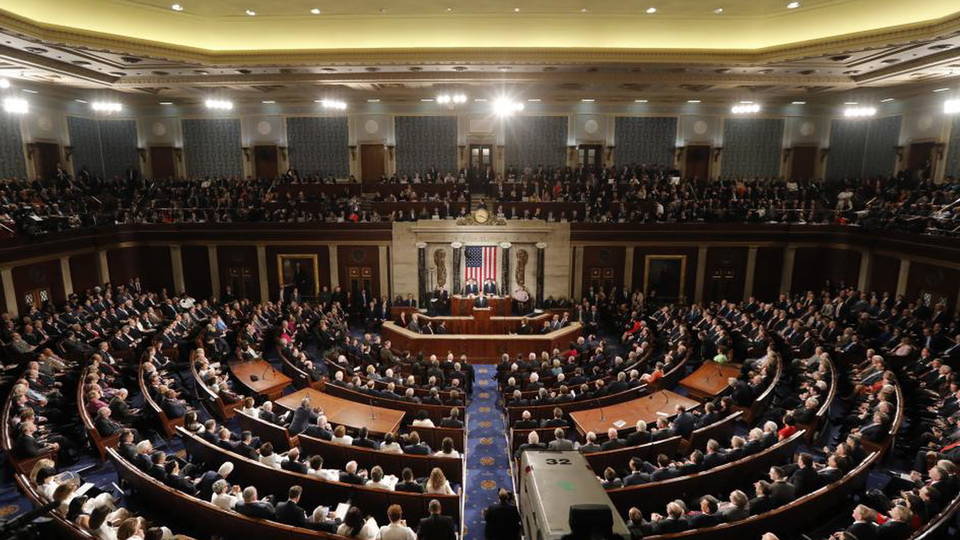 In his first address to a joint session of Congress, President Donald Trump vowed to expand the United States military budget, end the Affordable Care Act and sharply restrict immigration into the United States. The Washington Post reports the 60-minute speech included multiple factual inaccuracies, which include Trump taking credit for jobs that were actually created under the previous administration, and misrepresenting statistics to make unemployment and crime rates appear significantly worse than they are. Trump also repeated his claim that he is "drain[ing] the swamp of government corruption"—a statement that caused some Democratic lawmakers to laugh, given that Trump's Cabinet largely consists of millionaires and billionaires with unprecedented conflicts of interest.
Many Democratic congresswomen wore white to Trump's speech to honor the women's suffragist movement. Throughout the address, Trump reiterated his campaign's extreme, nationalistic vision for the country, although he sought to soften his tone and delivery. Trump opened his speech by condemning attacks against Jews and the murder of an Indian man in Kansas last week.
President Donald Trump: "Recent threats targeting Jewish community centers and vandalism of Jewish cemeteries, as well as last week's shooting in Kansas City, remind us that while we may be a nation divided on policies, we are a country that stands united in condemning hate and evil in all of its very ugly forms."
That's President Trump speaking last night to Congress, condemning the five nationwide waves of bomb threats targeting Jewish community centers, the desecration of hundreds of gravesites at two Jewish cemeteries, and the murder of an Indian man in Kansas by a white man who reportedly yelled "Get out of my country!" before opening fire. Trump has been under enormous pressure to condemn the threats and attacks.
But just earlier in the day, President Trump reportedly made a strange comment about the anti-Semitic threats during a meeting with state attorneys general, in which Trump appeared to question whether the Jewish community itself was behind the bomb threats. Pennsylvania Attorney General Josh Shapiro says Trump said of threats, "Sometimes it's the reverse, to make people—or to make others—look bad." Shapiro said Trump went on to use the word "reverse" two or three more times. In response, Steven Goldstein of the Anne Frank Center said, "Mr. President, have you no decency? To cast doubt on the authenticity of anti-Semitic hate crimes in America constitutes anti-Semitism in itself, and that's something none of us ever dreamed would disgrace our nation from the White House."