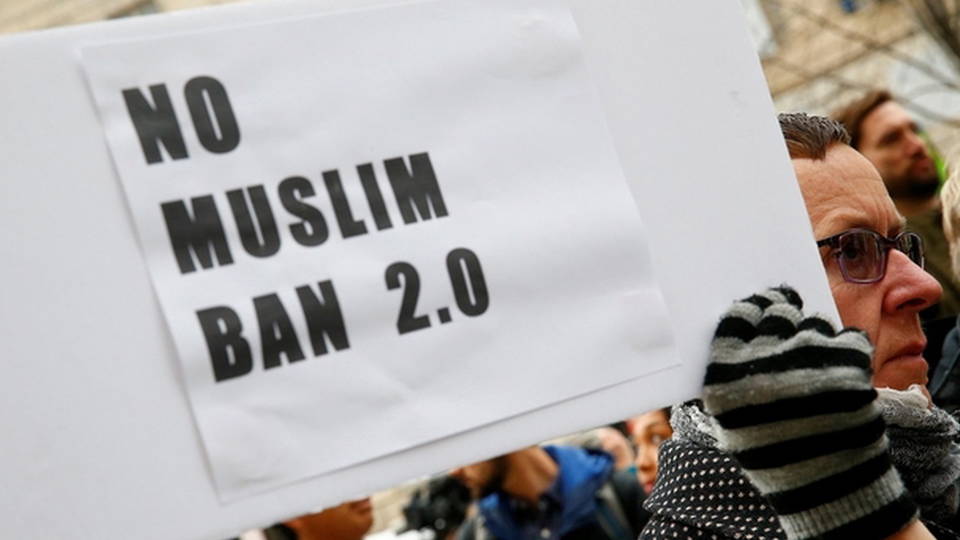 Legal challenges to President Trump's revised travel ban are mounting as the order is set to take effect at midnight tonight. Federal judges in both Hawaii and Maryland are slated to hear arguments today claiming the ban targets Muslims and is a violation of the First Amendment. Trump's executive order would bar refugees from entering the country for 120 days and would bar all people from Iran, Libya, Syria, Somalia, Sudan and Yemen from entering the country for 90 days.
TOPICS:
March 15, 2017 |
By Staff reporters
It is best not to go to the United States at all for now even if it is only for leisure, advise travel agents. Photo-Shutterstock
Muscat: US President Donald Trump's travel ban has been blocked by a federal judge in Hawaii, just hours before it was to come into effect on the 16th of March.
According to Trump's Executive Order, after 8:30am Oman time, 12:01 Eastern Daylight Time, nationals of six mainly Muslim countries were to be temporarily banned from entering the United States of America, except under certain conditions.
The revised order banned nationals of Iran, Sudan, Somalia, Syria, Yemen and Libya from entering the United States for 90 days (120 days for refugees) unless they hold a valid United States entry visa as of January 27, 2017.
The US Embassy in Oman had issued a statement advising residents exercise caution, saying, "the Executive Order is really clear. People need to closely follow and read what it says on the Executive Order," but the ruling by US court judge Derrick Watson has put paid to that for the time-being.
Despite the block, travel agents in Oman are advising people not to travel to the States unless absolutely necessary
One prominent agent in Muscat said: "Unless you have a Green Card, I would not recommend you travel to the United States, because the US administration is targeting a lot of people from the Middle East.
"Donald Trump seems to want to stop entry to everyone from this part of the world, and you don't know how you will be treated there simply because you are from the Middle East.
"Even if you do have a 10-year visa, you never know how the immigration officials at the airports in America will treat you, and it is not fair for them to treat people like this, just because they look different.
"We have had a lot of people asking us about the travel ban and how it will affect them, and we always give them the same advice as you never know what is being planned in the future, or if you are guaranteed entry into the United States. It is therefore best not to go there at all, even if it is only for leisure.
Even the Filipinos and Indians who go there are being treated with suspicion, so why would anybody want to go there now?"
Airlines in the region and travel agents in Oman had also advised passengers to check with US embassies before packing their bags for a US trip, as President Trump's second bid to impose a temporary travel ban targeting majority-Muslim countries was expected to come into effect.
"We strongly encourage all guests who are nationals of these countries to consult with their nearest United States embassy or consulate to ensure that they are legally entitled to enter the United States, particularly as the United States entry requirements are subject to change and may be subject to further interpretation by United States administrative agencies and courts," Etihad Airways said in its statement.
The airline had also added that the order did not apply to lawful permanent residents of the United States ("Green Card" holders), dual nationals, diplomatic or diplomatic-type visa holders, and certain individuals who have previously been granted asylum in the United States.
"The order also permits certain individuals that have "a continuous period of work, study or other long-term activity" and those with "significant business or professional obligations" to apply for a waiver, which may be granted by the United States on a case-by-case basis," the airline added.
Meanwhile, Emirates, another Dubai-based airline, said that foreign nationals from the six listed countries would not be allowed into the US if they are outside of the US on March 16, do not have a valid visa at 5pm (Eastern Standard Time on January 27, 2017) and do not have a valid visa on March 16.
"Nationals from the six countries may travel to the US only if they are in possession of a permanent resident card (Green card), any of the visas like if they are government officials and their immediate family, if traveling to UN, representatives and employees of international organisations and certain other categories," the airline said.
Trump's first ban barred citizens of Iraq, Iran, Libya, Somalia, Sudan and Yemen for 90 days, all refugees for 120 days and Syrian citizens indefinitely.
Trump's second ban, signed March 6, was to temporaril bar citizens of Iran, Libya, Somalia, Sudan and Syria for 90 days and all refugees for 120 days. Iraq was removed from the list after its government agreed to enhance screening of its citizens, and the indefinite ban on Syrians was dropped.
As part of tightening immigration rules, the US government has also decided to suspend the fast-tracking of H-1B visas for six months starting April 3.
This has meant many global IT companies, especially those from India, such as Infosys, Tata Consultancy Services and Wipro, are finding it more difficult to send skilled workers.
Additionally, a H-1B visa reform bill has also been tabled in the US House. If passed by both the House and the Senate and signed into law by the US President, it would require employers to make a good faith effort to recruit and hire American workers before bringing in foreign workers and prohibit employers from replacing American workers with H-1B workers or giving preference to H-1B visa holders when they are filling open positions.
Another travel agent in Oman said: "Check that you are eligible to travel (to the US), but even if you are not part of the banned countries, you need to be careful.
"You never know what could happen on arrival," he said adding that if you plan on travelling you must ensure that you have the correct visa as to not face any difficulties in immigration.
Many US states, immigration advocacy groups and private residents have filed lawsuits to block the new ban from coming into effect, as happened when Trump issued his first travel ban in late January.
Federal judges will weigh the president's powers to secure the nation from terrorists against the constitutional rights of foreigners in the United States.
According to a report from a Pew Research Center analysis of U.S. State Department data, a total of 2,466 refugees from six countries under new travel restrictions – Iran, Libya, Somalia, Sudan, Syria and Yemen – have resettled in the United States since Donald Trump became president.
"The number of refugees from the six travel-restricted countries represents 32 per cent of all refugees who have entered the U.S. since Trump took office," the report added.
The White House says the ban has been tailored to survive legal scrutiny. In court filings, the Department of Justice argues that the president has broad powers to protect the nation.
Ali, an Iraqi resident in Oman, said: "Although my nation has been taken off the list, we will still face a lot of scrutiny in America, as people from the Middle East are being treated with a lot of suspicion. Incidents that have occurred in Europe and America have made the politicians there very insecure and this was naturally going to happen. Maybe we didn't take Trump's ban so seriously, because he is not a politician but a rich man who has come to power, but I foresee similar actions taking place all over Europe.
"This is because politically, the world is moving towards the right and far away from the left. I feel really bad about this, but it is what it is."
One American living in Muscat said: "Thankfully my Iranian husband now has a green card, so we are able to travel to visit my family in the US. But, sadly, his brother, who was applying for American universities, and his mother, who wanted to go visit her daughter in the states, are now unable to go. This ban continues to keep families apart, punishing those who want only to visit my country and their families, with, in my opinion, no logical increase in national security. I'm hoping this ban is overturned, like the last one was, and that perhaps eventually the administration will just grow tired of pushing it.
The Statue of Liberty, our national symbol, is engraved with the quote: "Give me your tired, your poor, your huddled masses yearning to breathe free". This idea of welcoming those from around the world is what has made my country what it is today: a brain trust of some of the most ambitious and passionate talent from around the world. If America starts trying to close its doors to the world, it is going to lose the exact thing that makes it one of the greatest nations on earth. Trump's ban is an affront to the very fiber of American culture, and I continue to be discussed and disappointed by these attempts."