Lawmakers, Human Rights Advocates Oppose Trump's 2018 Budget
President Trump's proposed budget came under fire Thursday from both Democratic and Republican lawmakers. The 2018 budget calls for an unprecedented $54 billion increase in military spending while slashing environmental, housing, diplomatic and educational programs. It also calls for a 31 percent cut to the Environmental Protection Agency and the elimination of 3,200 jobs. If approved, the EPA's budget would become the smallest it's been in 40 years. On Thursday, Office of Management and Budget Director Mick Mulvaney called funding climate change programs a "waste of money."
Mick Mulvaney: "Regarding the question as to climate change, I think the president was fairly straightforward: We're not spending money on that anymore; we consider that to be a waste of your money to go out and do that. So that is a specific tie to his—to his campaign."
Trump's proposed budget would also cut spending for the State Department and USAIDby 28 percent, and slash billions of dollars in funding for the United Nations at a time when the U.N. says the world is facing its biggest humanitarian crisis since World War II. On Thursday, Human Rights Watch called on Trump to continue funding human rights programs worldwide.
Louis Charbonneau: "Many conflicts have their roots in human rights violations and abuses. And so, for the U.S. to pull back with funding could spark instability and lead to an increase in abuses. Congress has the opportunity to step in—and certainly they should step in—and make sure that the U.S. does not shy away from the commitments that it's had to maintaining the international human rights system that has been in place since World War II, including the U.N."
Trump's budget also threatens numerous programs to help the poor in the United States, including the Low Income Home Energy Assistance Program, which helps the poor pay for heat during the winter, and the Community Development Block Grant program, which partially funds, among other things, Meals on Wheels to feed the elderly, the poor, veterans and disabled people. We'll have more on Trump's proposed budget after headlines with Ralph Nader.
Tillerson Says Military Action Against North Korea is on the Table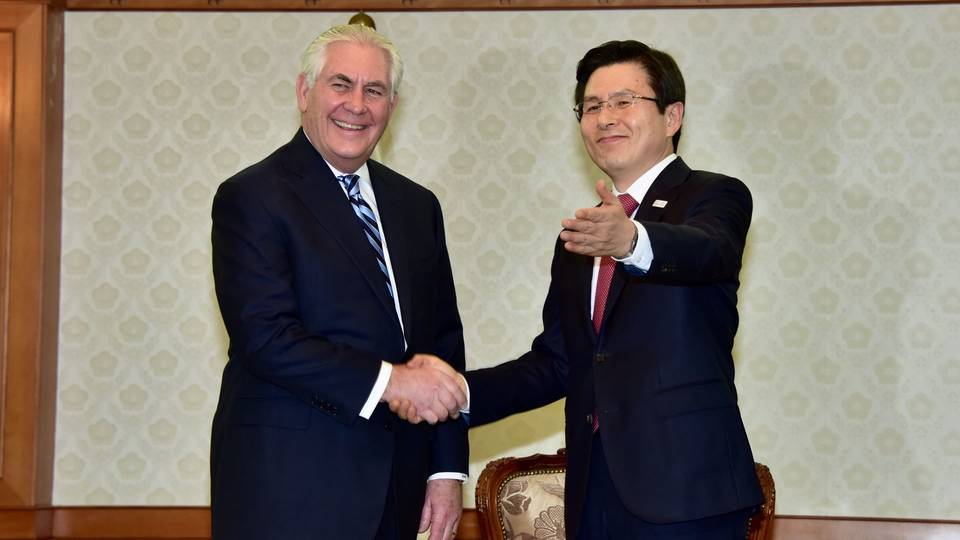 On his first trip to Asia, Secretary of State Rex Tillerson said the United States would consider taking military action against North Korea, while speaking in Seoul.
Secretary of State Rex Tillerson: "Let me be very clear: The policy of strategic patience has ended. We're exploring a new range of diplomatic, security and economic measures. All options are on the table."
This morning, Tillerson also visited the Demilitarized Zone on the border between North and South Korea. This week, the U.S., Japan and South Korea carried out two days of military training exercises, sending warships to the same area where North Korea fired four missiles a week earlier. The U.S.'s elite SEAL Team 6 took part in the war games for the first time.
The war games coincide with a U.S. military build-up in the region. Over the last few weeks, the U.S. has been deploying a missile defense system known as THAAD, the Terminal High Altitude Area Defense system, to South Korea. The U.S. has now also announced it will be deploying unmanned attack drones to South Korea.
During Tillerson's trip to Asia, he endorsed the proposed dramatic cuts to the State Department budget, despite warnings the cuts would decrease the U.S.'s ability to carry out diplomatic efforts to resolve conflicts. Defense Secretary James Mattis once famously said while serving as the commander of U.S. Central Command, "If you don't fund the State Department fully, then I need to buy more ammunition."
Japanese Protested U.S. Military Base in Okinawa Ahead of Tillerson's Visit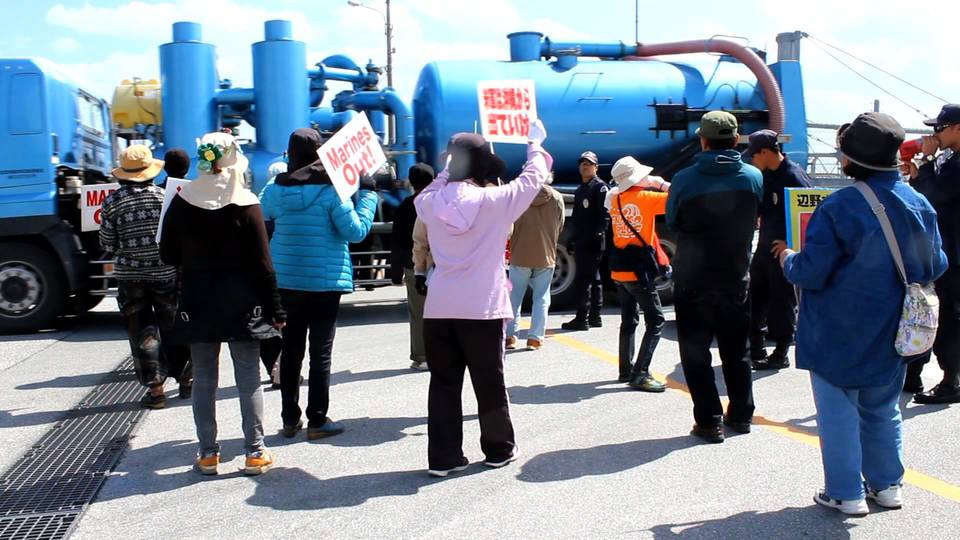 Tillerson's trip to the Demilitarized Zone came after he visited Japan earlier this week, where he also called for a "different approach" to North Korea, saying diplomatic efforts so far had failed. Ahead of his visit, protesters again rallied in Okinawa to protest U.S. military bases on the island.
TOPICS:
Report: Trump's Counterrerrorism Aide is "Sworn Member" of Nazi-Allied Group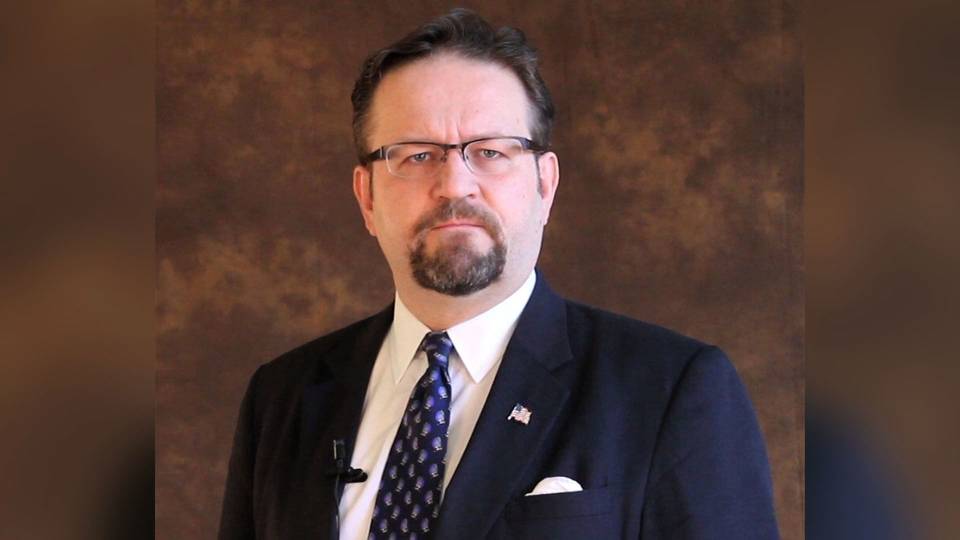 President Donald Trump's top counterterrorism adviser, Sebastian Gorka, is facing calls to resign after the Jewish American newspaper The Forward reported Gorka is a "sworn member" of a Hungarian far-right, Nazi-allied group. The Forward reported Thursday that members of the Vitézi Rend have confirmed Gorka took a lifelong oath of loyalty to their group, which the U.S. State Department says was "under the direction of the Nazi Government of Germany" during World War II. If the report is true, it means Gorka may have lied on his U.S. immigration application, which requires people disclose ties to such organizations. Gorka has denied reports of his involvement with the Nazi-allied group, telling Tablet magazine, "I have never been a member of the Vitez Rend." We'll have more on Sebastian Gorka later in the broadcast.
Syria: U.S. Confirms Airstrike But Denies Hitting Mosque Where 40 Were Killed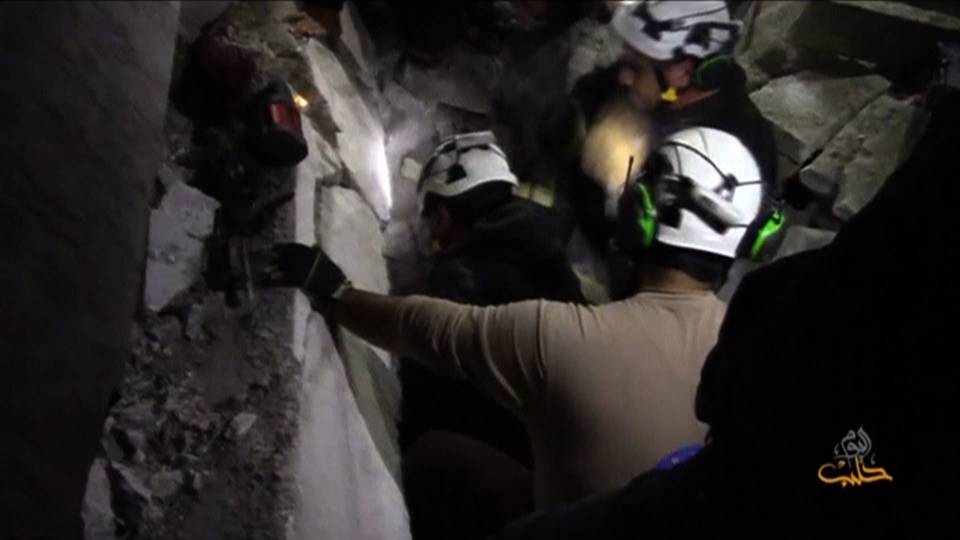 In Syria, at least 40 people have died after an airstrike struck a mosque in the middle of evening prayer in the village of al-Jina Thursday night. The Pentagon has confirmed it carried out an airstrike Thursday night in the same area, but it denies hitting the mosque. Instead, the Pentagon claims its strike hit an al-Qaeda meeting that was being held 50 feet away from a mosque, which the U.S. military claims is still standing. Syrian activists and on-the-ground journalists reject the U.S. military's account. This is journalist Bilal Abdul Kareem.
Bilal Abdul Kareem: "When you look just behind me, this was all a part of the masjid, or the compound. Now, the U.S. government has admitted that they launched an airstrike here just last night. But they said they did it 50 feet from the actual mosque. You can look, and you can see that the mosque is right here, and all of this, which has been hit, behind me is all a part of the mosque compound."
TOPICS:
McDonald's Tweet to Trump: "You are Disgusting Excuse of a President"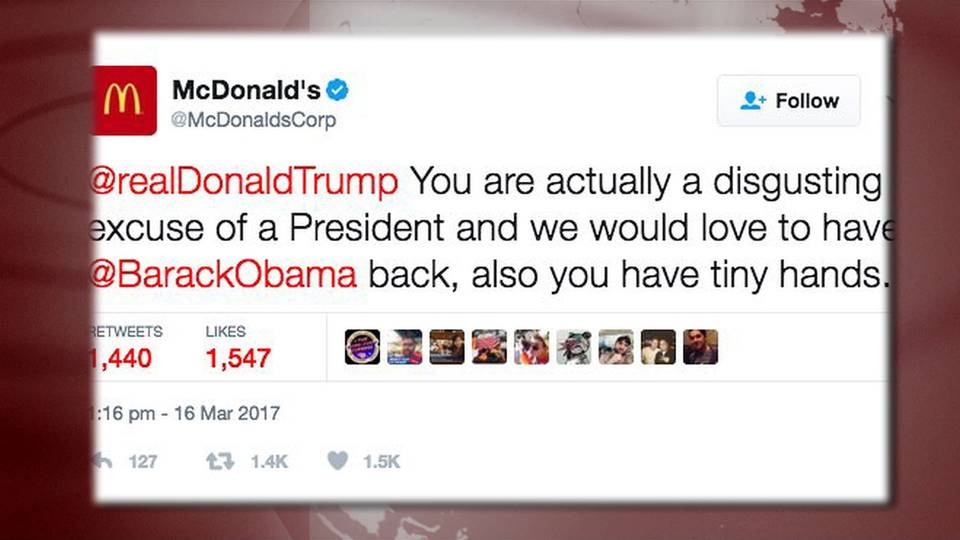 Back in the United States, the fast-food giant McDonald's briefly appeared to take on President Donald Trump Thursday, when the corporate account tweeted out, "@realDonaldTrump You are actually a disgusting excuse of a President and we would love to have @BarackObama back, also you have tiny hands." The tweet was swiftly deleted within 20 minutes, and McDonald's later apologized, claiming its account had been hacked. McDonald's head of global communications, Robert Gibbs, previously worked as President Obama's press secretary.