Dear Kevin:
On Monday, the Senate Judiciary Committee will begin its confirmation hearings for Judge Neil Gorsuch, Donald Trump's nominee to fill the vacancy on the Supreme Court created by Justice Scalia's death more than a year ago. Committee members will make opening statements on Monday, with Judge Gorsuch set to testify in response to Senators' questions on Tuesday, and perhaps on Wednesday as well.
We will be watching this critical hearing, and we hope you will be too.
Watch the Gorsuch confirmation hearings on C-SPAN or on the Committee's web page.
In two new CAC reports, we have detailed important concerns about Judge Gorsuch's record, concerns that Senators should question him about at his hearing and that he needs to address forthrightly.
First, as we explain in this Issue Brief, Gorsuch, who describes himself as an originalist when it comes to the Constitution, appears to be only selectively so, committed to following only some of the Constitution's text and history, not all of it. Importantly, as we have found, Judge Gorsuch places great emphasis on the original 1789 Constitution, but appears to have given short shrift to the Amendments that have transformed our nation's charter, including the Amendments that guarantee equal protection and equal dignity to all persons, that prohibit racial discrimination in voting, and that give Congress the power to enforce these fundamental rights. A true originalist must follow the text and history of the whole Constitution, not just the parts he prefers.
In a second Issue Brief, we examine a number of disturbing opinions by Judge Gorsuch that have led big business to conclude that Gorsuch, if confirmed, will be another reliable vote for corporate America on the Roberts Court. In these opinions, Gorsuch has engaged in cramped readings of statutes intended to protect workers and others from corporate abuse and wrongdoing, as well as shown a very favorable view of arbitration, a process preferred by corporations as a means of keeping individuals harmed by them from having their day in court.
As we have shown in our empirical studies of the success of the U.S. Chamber of Commerce before the Supreme Court, the Roberts Court, led by the conservative Justices, is exceedingly pro-business, to the detriment of workers, consumers, and other individual Americans. Big business expects that Gorsuch will help them keep a virtual stranglehold on the Court.
We'll be watching the Gorsuch hearings carefully to see what Gorsuch has to say about these and other troubling aspects of his record. We'll be looking for probing questions from the Senators, and real answers from Judge Gorsuch. The American people are entitled to no less.
We hope you'll be able to watch as well.
Sincerely,
Elizabeth Wydra
President
Constitutional Accountability Center
P.S. Connect with us on Twitter and Facebook to receive information about future CAC events and other pressing Supreme Court issues.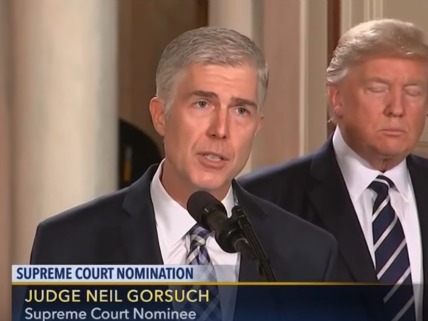 C–SPAN.org gives you access to C–SPAN's daily coverage of Washington and more than 200000 … Supreme Court Nominee Neil Gorsuch Makes Confirmation Hearing Opening Statement. Senate Judiciary Committee members and Supreme Court nominee Judge Neil Gorsuch … Watch Congress, White House & Courts.
C–SPAN Looks Back at Supreme Court Justices' Confirmation Hearings. 2 hours, 6 … Budget CommitteeVotes 19-17 to Report GOP Health Care Bill to House … Senator Patrick Leahy on Neil Gorsuch Supreme Court Confirmation Hearing.
Find C–SPAN's latest TV scheduling information. … The Home That Was Our Country …. Supreme Court Nominee Neil Gorsuch Makes Confirmation Hearing …
Find events and people who have appeared on the C–SPAN networks going back to 1987. … Senator Chuck Grassley (R-IA), chair of the Senate Judiciary Committee, … 2017, confirmation hearing for Supreme Court nominee Neil Gorsuch.
Watch C–SPAN 3 Live. … Watch The C–SPAN TV Networks … The committee begin hearings on the nomination of Judge Robert Bork to be associate justice of …
Find C–SPAN's latest TV scheduling information. … C–SPAN 3 · C–SPAN Radio …… Supreme Court Nominee Neil Gorsuch Testifies at Confirmation Hearing.
3 days ago – Hearing to examine the nomination of Neil M. Gorsuch, of Colorado, to be an … Coverage:C–SPAN pool feeds: Chairman Iso Feed: CAP DA 1; …
Standing Committees: Committee on Agriculture, Nutrition, and Forestry … Hearings to examine the nomination of Neil M. Gorsuch, of Colorado, to be an …
c-spanvideo.org/videoLibrary/print-schedule.php
C–SPAN | Washington Journal LIVE Open Phones Telephone lines were open for viewer …. Senate Finance Committee U.S. Trade Representative Confirmation Hearing Robert ….. C–SPAN Senator Chuck Grassley on Neil Gorsuch Supreme Court … as part of the "Marines United" Facebook group and associated website.
2 days ago – Search the history of over 284 billion web pages on the Internet. … confirmation hearing for judge neil gorsuch on monday, c–span caught up … to discuss their approach to the hearing. here'scommittee chair chuck grassley of iowa. …. gelzo, jason silverman, and d douglas wilson. watch the abraham lincoln …