Washington, D.C.: Honduran President Faces Protests over Cáceres's Murder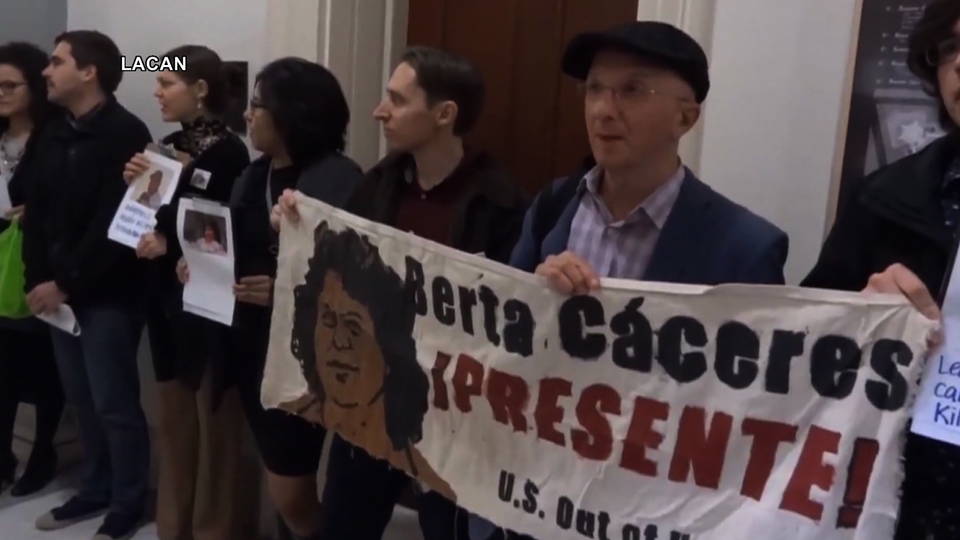 Back in the United States, Honduran President Juan Orlando Hernández was confronted by protesters when he arrived in Washington, D.C., to meet with lawmakers Tuesday. The protesters chanted "asesino"—the Spanish word for "murderer"—and held photographs of the murdered environmental activist Berta Cáceres. She is one of more than 120 environmental and human rights activists who have been murdered in Honduras since the 2009 U.S.-backed military coup. Dozens of lawmakers have signed on to co-sponsor the Berta Cáceres Human Rights in Honduras Act, which seeks to withhold U.S. military aid to Honduras until the Honduran government addresses human rights violations by its police and security forces.
Dear Kevin,
March 2nd marked the anniversary of the assassination of the visionary leader Berta Cáceres, as well as the reintroduction of the bill named in her honor, the Berta Cáceres Human Rights in Honduras Act (HR 1299). When we last wrote to you, it had just been reported that two of those charged with Berta's murder were trained by the United States in Ft. Benning, Georgia, home of the School of the Americas (SOA-WHINSEC)
Ask your Representative TODAY to co-sponsor HR 1299, the Berta Cáceres Human Rights in Honduras Act!
Our 2017 Spring Days of Action will honor Berta's tremendous legacy by calling for an end to U.S. military aid to Honduras, as well as demanding that the Trump administration respect the rights of Central American refugees, too many of whom have been forced to flee their homes due to U.S.-led militarization. But we are doing things a bit differently this year. Instead of asking supporters to travel to Washington, DC, we are asking you to lobby or protest your members of Congress in your home districts between April 11 – April 21, when Congress will be "in district". Please stay tuned for more details about our 2017 Spring Days of Action or email our Advocacy Coordinator at arturo@soaw.org for more information.
For now, we need to keep the momentum going on HR 1299! 38 Members of Congress have already officially co-sponsored HR 1299, the Berta Cáceres Human Rights in Honduras Act!
Email your representative today to ask them to co-sponsor this important piece of legislation (or thank them for already having done so), which would suspend US military/security aid to Honduras pending credible and complete investigations into the murders of Berta and other Honduran Human Rights Defenders. We see the campaign around this bill as part of our support for Central American asylum-seekers, as an important way to address the real root causes of migration.

Please take action for justice and accountability in Honduras today!

In Solidarity,
Arturo, Brigitte, Eduardo, Katherine, Roy, and the rest of SOA Watch