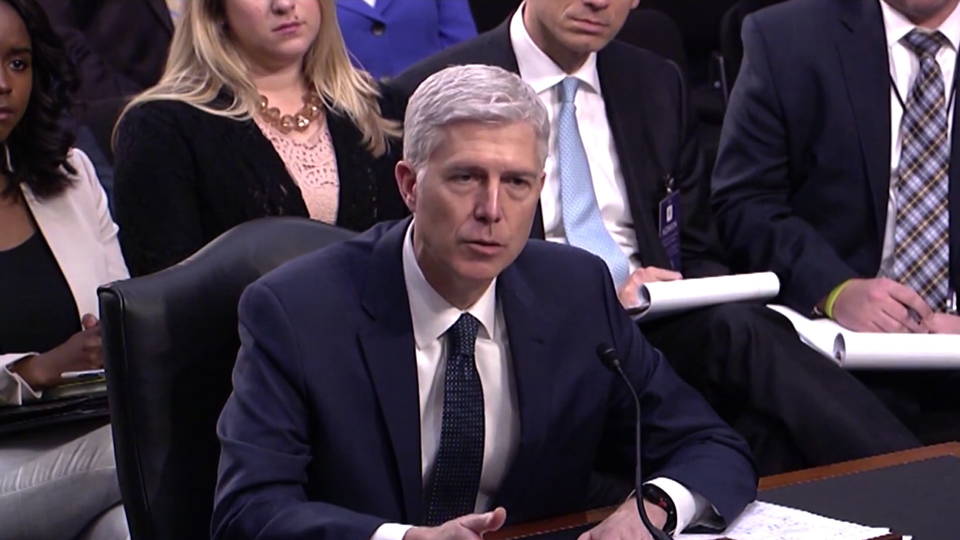 Meanwhile, the U.S. Supreme Court ruled unanimously Wednesday that a public school district in Colorado violated the Individuals with Disabilities Education Act by failing to adequately provide for an autistic student. The high court's 8-0 ruling overturned a 2008 decision written by Judge Neil Gorsuch in favor of the school district over the autistic child. The ruling was handed down as Gorsuch testified to the Senate Judiciary Committee for the third straight day of his confirmation hearings to join the Supreme Court. This is Illinois Senator Dick Durbin, quoting the Supreme Court ruling.
Sen. Dick Durbin: "The court went on to say, 'The IDEA demands more. It requires an educational program reasonably calculated to enable a child to make progress appropriate in light of the child's circumstances,' end of quote. It's a powerful decision. It's a unanimous decision."
Judge Neil Gorsuch: "If anyone is suggesting that I like a result where an autistic child happens to lose, it's a heartbreaking accusation to me. Heartbreaking. But the fact of the matter is, I was bound by circuit precedent. And so was the panel of my court."
At this point, the Senate Judiciary Committee is expected to vote in favor of Judge Gorsuch's nomination on April 3, and a Senate floor vote is expected later that week. Republican Senate Majority Leader Mitch McConnell has threatened to change Senate rules to allow Gorsuch's confirmation on a simple majority vote rather than the 60 votes now required for confirmation.