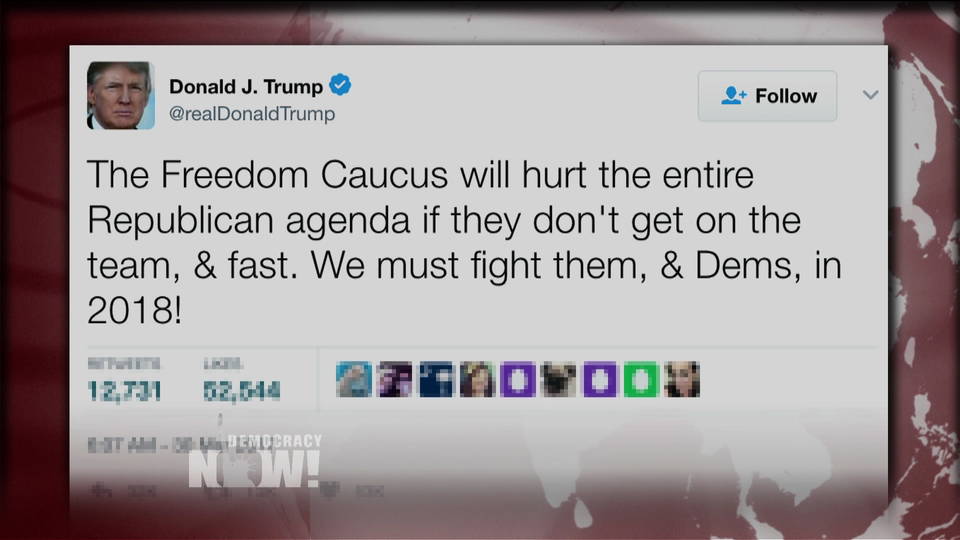 President Donald Trump lashed out Thursday at right-wing Republicans who voted against his healthcare legislation, saying he was prepared to support primary challengers to House Freedom Caucus members in next year's midterm elections. In a tweet, Trump wrote, "The Freedom Caucus will hurt the entire Republican agenda if they don't get on the team, & fast. We must fight them, & Dems, in 2018!" On Capitol Hill, House Speaker Paul Ryan said he was sympathetic to Trump's view.
Speaker Paul Ryan: "Look, I understand the president's frustration. I share frustration. About 90 percent of our conference is for this bill to repeal and replace Obamacare. And about 10 percent are not. And that's not enough to pass a bill. We're close."
Members of the Freedom Caucus shot back at Trump, accusing him of siding with the D.C. establishment and failing on a campaign pledge to "drain the swamp" in Washington.