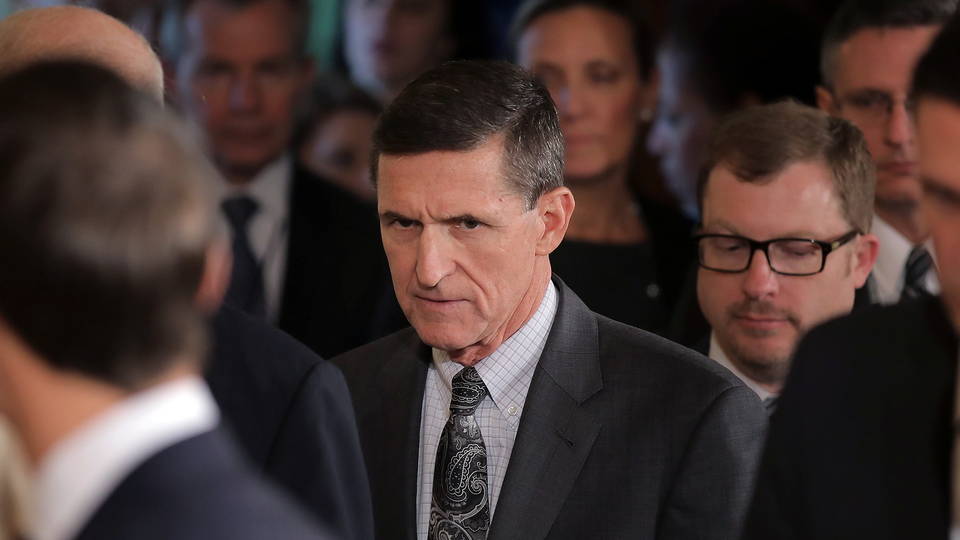 NBC News is reporting the Senate Intelligence Committee has rejected former National Security Adviser Michael Flynn's request for immunity in exchange for testimony in the ongoing investigation into whether the Trump campaign colluded with Russia to influence the 2016 election. On Friday, White House Press Secretary Sean Spicer said the White House wants Flynn to testify.
Reporter: "So does the president think that Mike Flynn is guilty of a crime?"
Press Secreary Sean Spicer: "I think Mike—he believes that—that Mike Flynn should go testify. He thinks that he should go up there and do what he has to do to get the story out."
Reporter: "With or without immunity?"
Press Secretary Sean Spicer: "Well, I mean, that's up to him and his lawyer to decide. I'm not going to give Mike—Mike Flynn or anyone else legal advice from the podium. But I will tell you that the president's view is, he should go up there, he
should testify."
A similar investigation by the House Intelligence Committee remains stalled, as the ranking Democrat on the committee, California Congressmember Adam Schiff, accused committee Chair Devin Nunes of attempting to distract the public from the ongoing investigation. On Friday, Schiff viewed the classified intelligence documents that were secretly shown to Nunes on the grounds of the White House by two White House officials in March, only one day before Nunes traveled back to the White House to supposedly brief the president about the documents the president's own staff had given him. Nunes, who was a member of Trump's transition team, say the documents indicated Trump or his associates might have been "incidentally" swept up in surveillance carried out by American spy agencies as they conducted foreign surveillance.
After viewing the documents a full 10 days after Nunes viewed them, Schiff criticized Nunes for refusing to share them with the full committee. Nunes is facing increasing calls to recuse himself from the investigation or step down as chair entirely. On Friday, hundreds of protesters confronted him outside a speaking event in his home district of Fresno, California. Meanwhile, The New York Times reports Flynn failed to disclose payments from Russian-linked companies on one of two financial disclosure forms released Saturday by the White House.
Facing Questions About Flynn, Trump Flees Oval Office Before Signing Ex. Orders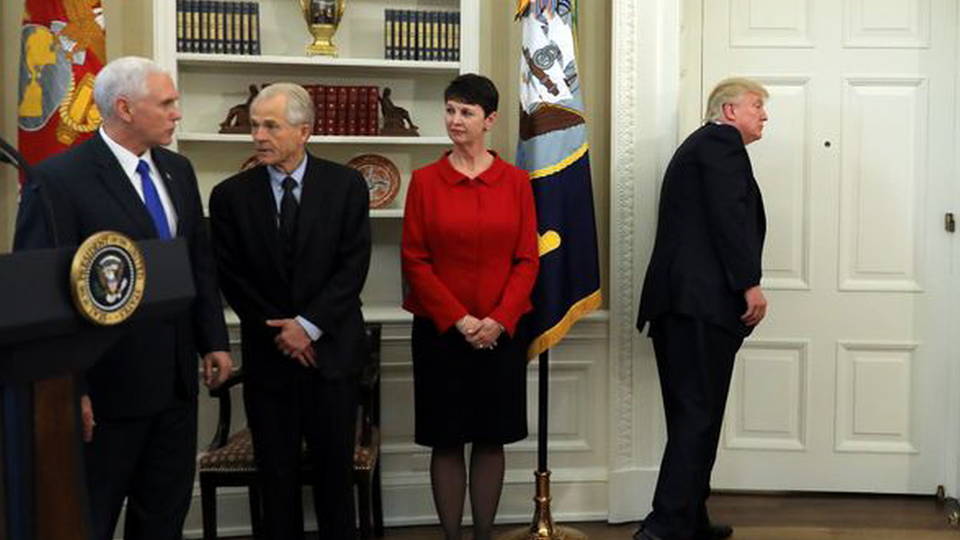 President Trump dodged questions from a reporter about Michael Flynn by fleeing the Oval Office Friday afternoon during what was supposed to be a signing ceremony of two executive orders on trade. As Trump departed, Vice President Mike Pence gathered up the unsigned papers. Trump later signed the orders in private, away from reporters. The two orders establish a commission to study the causes of U.S. trade deficits, and tighten laws that restrict foreign manufacturers from undercutting the prices of U.S. goods.
Documents: Kushner and Ivanka Continue to Be Beneficiaries of Empire
More financial disclosure forms released by the White House on Friday night show that President Trump's son-in-law and senior adviser, Jared Kushner, and Trump's daughter, Ivanka, will continue to receive the financial benefits of a vast real estate empire worth up to $740 million, despite the two now holding official roles in the administration.
Trump Meeting with Egyptian Leader General el-Sisi at White House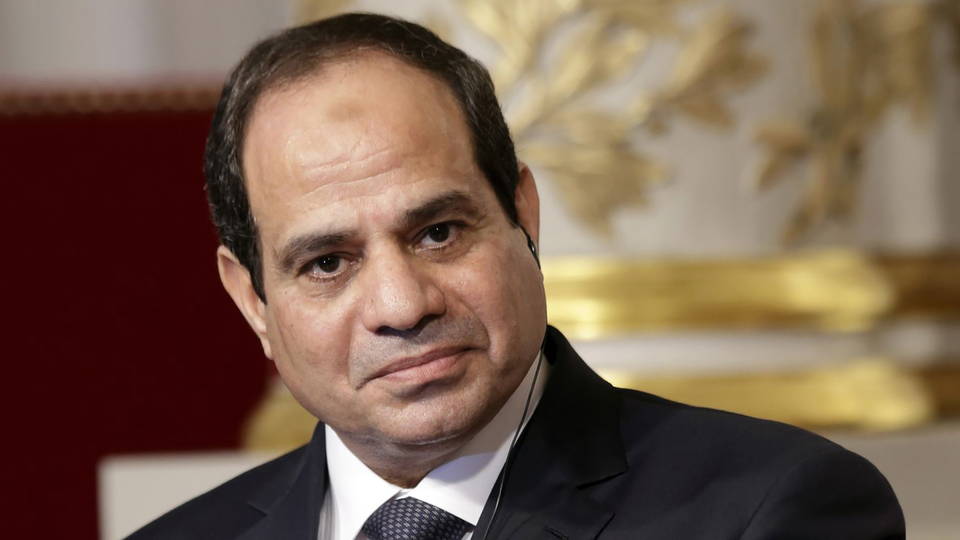 President Trump is to meet with Egyptian President General Abdel Fattah el-Sisi at the White House today, even as Sisi faces widespread criticism for human rights abuses in Egypt. Human rights organizations say Sisi and his security forces have arrested tens of thousands of Egyptians and have committed torture, forced disappearances and extrajudicial killings. The Trump administration has indicated it will not bring up the human rights abuses during today's meeting. We'll go to Cairo for more on Egypt with Democracy Now! correspondent Sharif Abdel Kouddous later in the broadcast.
Trump Says He Would Act Unilaterally Against North Korea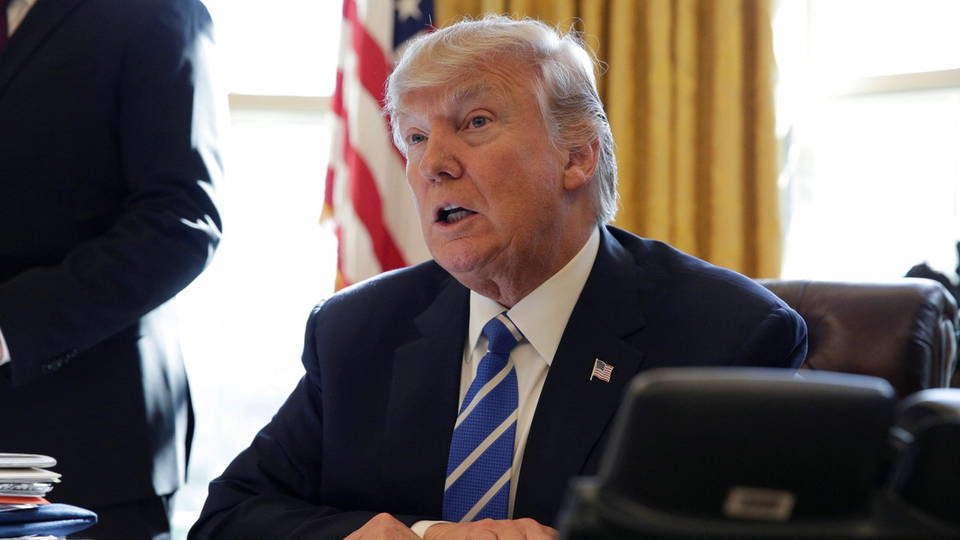 President Trump will be meeting with Chinese President Xi Jinping on Thursday at his Florida resort Mar-a-Lago—even though the meeting is unlikely to include any tee time on Trump's Mar-a-Lago golf course. Xi has closed over 100 golf courses across China, where the Communist Party officially bans its members from playing the game. The Trump administration is currently not required to publish the visitor logs for meetings at private resorts, including Mar-a-Lago, although Democratic lawmakers have introduced a new piece of legislation, the MAR-A-LAGO Act, that would force him to do so.
In an interview with the Financial Times published Sunday, Trump warned he would be willing to take unilateral action against North Korea over its nuclear weapons program. Trump said, "If China is not going to solve North Korea, we will." President Trump will host Jordan's King Abdullah on Wednesday, the day before meeting with Chinese President Xi.