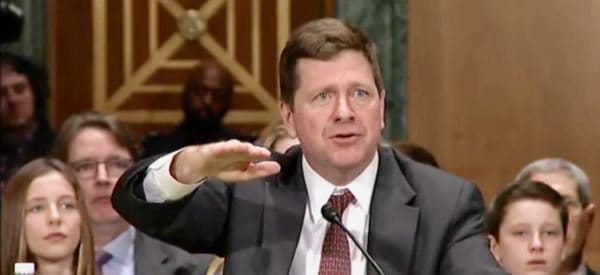 Kevin,
If we don't all take action, Jay Clayton – Trump's dangerous pick to head the Securities and Exchange Commission (SEC) – could be confirmed as soon as tomorrow. People already know that Clayton is bad news. In fact, some senators have already voted against confirming Clayton in the first round of voting, which took place a few weeks ago. Now we need to tell the rest of the Senate that he is a dangerous choice, and we're watching how they vote.
Jay Clayton – best known as Wall Street's bailout lawyer – has spent his entire career helping big banks skirt the rules and rake in profits, including in the aftermath of the financial crisis. And now Trump wants to put him in charge of protecting Americans from those very same bad apples.
We can't let that happen. If the Senate doesn't know that their constituents are paying attention – and that we'll hold them accountable for the aftermath of having "Mr. Wall Street" in charge of our economy – they'll confirm Clayton.
Call your senators and tell them that Jay Clayton is unqualified to lead the SEC!
Give the Capitol Switchboard a call at (202) 224-3121, and they'll connect you with your Senators' offices.
Here's a sample script:
Hi, I'm [NAME] from [CITY, STATE, ZIP CODE], and I'm deeply concerned about Jay Clayton's nomination to head the Securities and Exchange Commission. I strongly believe that he does not have our best interests at heart. Clayton represents Wall Street, not the American people.
Jay Clayton has worked on Wall Street for 15 years, is a partner at Sullivan & Cromwell – the go-to law firm for Wall Street banks, including Goldman Sachs. In addition, Clayton's wife is a vice president at Goldman Sachs. He also played a leading role in the 2008 financial crisis, helping Goldman Sachs pocket $10 billion in bailout money.
As a constituent of Senator [X], I'm asking [him/her] to protect the American people and our economy by opposing Jay Clayton's nomination. Thank you.
Thanks for making your voice heard. 
In solidarity,
The Stop Payday Predators Team
P.S. To learn more about what's at stake, visit ResistTheHostileTakeover.org – and then share it with your friends and family to spread the word. 
Mar 15, 2017 – Make sure both of your senators know that you oppose Jay Clayton's confirmation as … Visit your Senators' regional offices and call their office to voice your opposition. … Jay Clayton is wholly unqualified to lead the SEC.
Apr 4, 2017 – Trump's SEC pick Jay Clayton clears Senate panel … Nominated to lead the top US securities regulator by President Donald Trump, Mr Clayton …
dailyyopp.blogspot.com/2017/03/daily-yopp-31917-oppose-jay-clayton-for.html
Mar 19, 2017 – CALL ON YOUR SENATORS TO OPPOSE JAY CLAYTON FOR SEC CHAIR … and be on top of *everything* so that we can let our members of Congress know how we feel. … We elect people who we trust and let them pay attention to everything. …. Jay Clayton is wholly unqualified to lead the SEC.
indivisibleyolo.org/front-page/sample-scripts/
Calling our congressional representatives en masse is one of the hallmarks of the Indivisible … The national team puts out excellent scripts and updates them frequently.… … Jay Clayton is whollyunqualified to lead the SEC. … Please let the Senator know that his/her vote on the BRIDGE Act is important to me, and I will be …
Mar 19, 2017 – 79 passed in the Vermont Senate and House – it will prevent state agencies from collecting personal information that …. [Add any personal information if you happen to know them.] ….Jay Clayton is wholly unqualified to lead the SEC. … Action: Contact your House Representative Peter Welch 802-652-2450 …
Today's Daily Action is to call our senators and tell them we aren't playing …. A wave of opposition to President Donald Trump's pick of Betsy DeVos to lead the U.S. … The S.E.C. is our top cop to police Wall Street – but Jay Clayton has spent his ….. has just announced that she's voting NO on the outrageouslyunqualified …
"A man like Jay Clayton who has spent his entire career putting the interests of Wall … Groups UrgeSenate to Reject Trump SEC Nominee, Citing Conflicts of Interest ….. He was given five of them. ….. Now Donald J. Trump wants Puzder to be our Labor Secretary? … Tell U.S. Senator Susan Collins to vote "NO" on Puzder.
64.147.104.30/policy/…/312714-dems-attack-trump-sec-nominees-ties-to-wall-street
Jan 4, 2017 – Clayton was announced as Trump's pick to lead the SEC on … on the Senate Banking Committee, said he doubted Clayton's desire to … "Trump's preference for Wall Street insiders calls into question his … to know that he will represent them as zealously and as effectively," Kelleher said in a statement.
Oppose Jay Clayton for SEC ….. Use the form below to directly contact your senators right now and tell them to ….. trying to address the problem — makes Tillerson categorically unqualified for ….. Portland could be the next to lead the way!
Mar 1, 2017 – The Senate votes 68-31 to confirm Representative Ryan Zinke (R-MT) as Interior … BARRY BLACK WILL LEAD THE SENATE IN PRAYER.