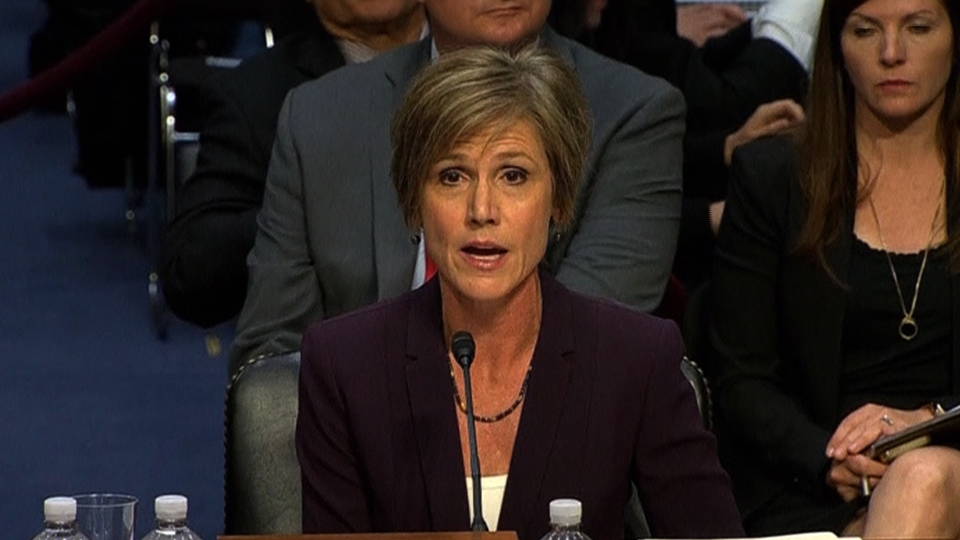 Former acting Attorney General Sally Yates testified to the Senate Judiciary Subcommittee Monday that she'd warned the White House less than a week into the Trump presidency that former National Security Adviser Michael Flynn was lying about whether he had discussed U.S. sanctions with Russian Ambassador Sergey Kislyak, and that these public and private lies made him susceptible to blackmail.
Sally Yates: "We were concerned that the American people had been misled about the underlying conduct and what General Flynn had done, and, additionally, that we weren't the only ones that knew all of this, that the Russians also knew about what General Flynn had done. And the Russians also knew that General Flynn had misled the vice president and others. And that created a compromise situation, a situation where the national security adviser essentially could be blackmailed by the Russians."
Yates's testimony renewed questions about why President Trump disregarded her warning and did not oust Flynn until 18 days later, after Flynn's lies were revealed by the press.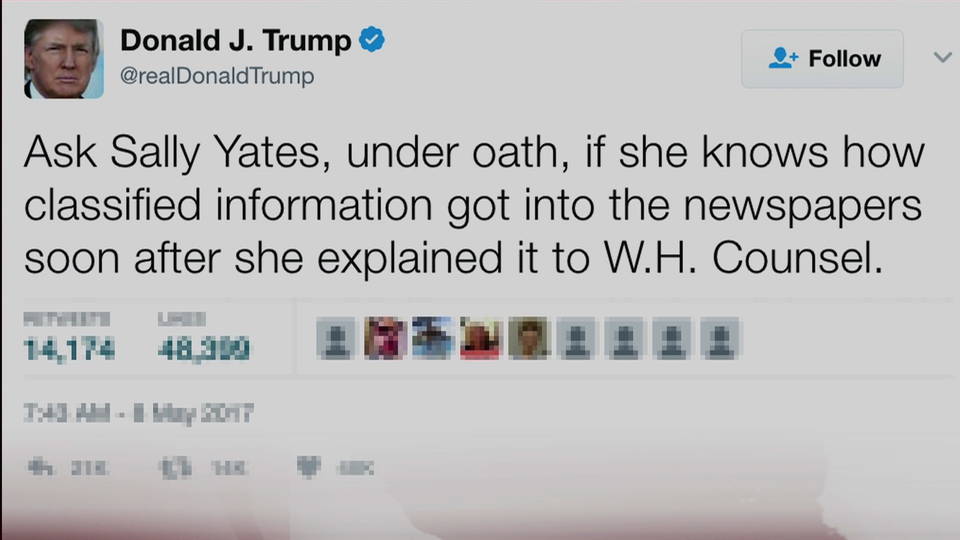 Ahead of Yates's testimony Monday, Trump launched a tweet storm, including one in which he wrote, "Ask Sally Yates, under oath, if she knows how classified information got into the newspapers soon after she explained it to W.H. Counsel." Some lawyers say Trump's tweet constitutes illegal witness intimidation. Former criminal investigator Seth Abramson tweeted, "The president is committing a serious felony (witness tampering) in full view of the American public. What's the media going to do about it?"
Also on Monday, former Obama administration officials said Obama had personally warned Trump about Flynn, only days after Trump was elected. But on Monday, White House Press Secretary Sean Spicer tried to shift blame onto the Obama administration, asking why it hadn't revoked Flynn's security clearance.
Press Secretary Sean Spicer: "The question that you have to ask yourself, really, is: If President Obama was truly concerned about General Flynn, why didn't he suspend General Flynn's security clearance, which they had just reapproved months earlier?"
White House vetting is significantly more extensive than security clearance, which is held by 4 million people.
During Sally Yates's testimony Monday, she also clashed with Texas Senator Ted Cruz over her refusal to defend President Trump's first Muslim travel ban, in a move that cost her her job. This is Yates.
Sally Yates: "And in this particular instance, particularly where we were talking about a fundamental issue of religious freedom—not the interpretation of some arcane statute, but religious freedom—it was appropriate for us to look at the intent behind the president's actions. And the intent is laid out in his statements."
Sen. Ted Cruz: "A final very brief question. In the over 200 years of the Department of Justice history, are you aware of any instance in which the Department of Justice has formally approved the legality of a policy, and three days later the attorney general has directed the department not to follow that policy and to defy that policy?"
Sally Yates: "I'm not, but I'm also not aware of a situation where the Office of Legal Counsel was advised not to tell the attorney general about it until after it was over."