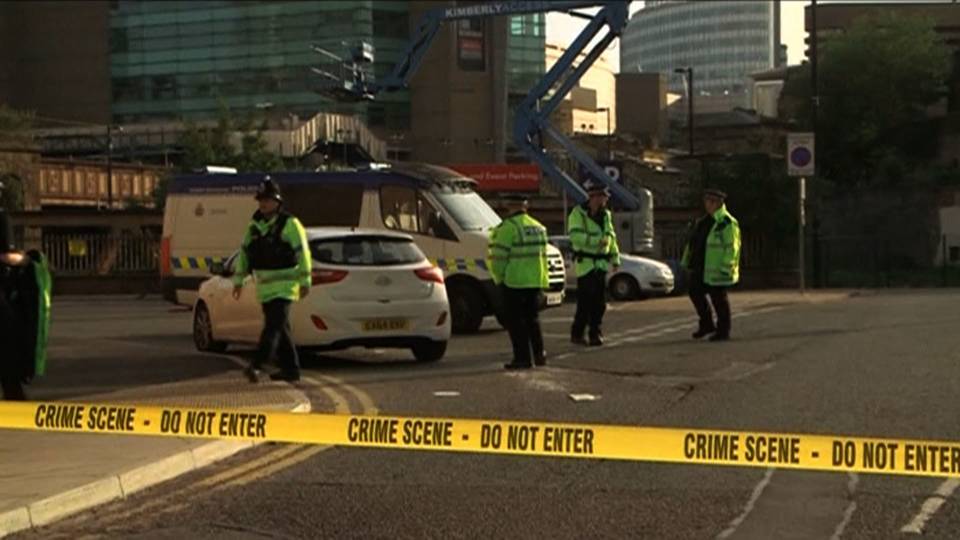 In Manchester, England, at least 22 people were killed in a bombing at a concert arena at the end of a performance by American pop star Ariana Grande. Dozens more were wounded in the explosion, which appears to be a suicide attack. This is 19-year-old Sebastian Diaz, who survived the blast.
Sebastian Diaz: "Just as we were leaving after the last song, we heard the explosion when we got to the foyer doors, and we just looked behind us, and there was chaos. And in front of us, people were running past the doors screaming, looking behind them. And we were in two minds as to whether to stay in the arena and just seek shelter or run and try and get out, you know, which we decided to go out. And we ran, and people were screaming around us and pushing down the stairs to go outside. And people were falling down. Girls were crying. And we saw these women being treated by paramedics. They had like open wounds on their legs, no shoes. It was just chaos."
Police say they are investigating the explosion as a "terrorist incident" and that the alleged attacker died in the explosion. This morning on Twitter, ISIS claimed responsibility for the attack. British Prime Minister Theresa May says the police know the identity of the alleged attacker, but he or she has not been named. A second person, who has also not been named, has been arrested in connection to the bombing. Authorities have named the first of the 22 victims: 18-year-old Georgina Bethany Callander from Lancashire. While speaking in the town of Bethlehem in the Israeli-occupied West Bank today, President Trump condemned the Manchester bombing.
President Donald Trump: "I extend my deepest condolences to those so terribly injured in this terrorist attack and to the many killed and the families, so many families, of the victims. We stand in absolute solidarity with the people of the United Kingdom. So many young, beautiful, innocent people living and enjoying their lives, murdered by evil losers in life."
That's President Trump, speaking after he met with Palestinian leader Mahmoud Abbas in the West Bank today as part of his two-day trip to Israel and Palestine.