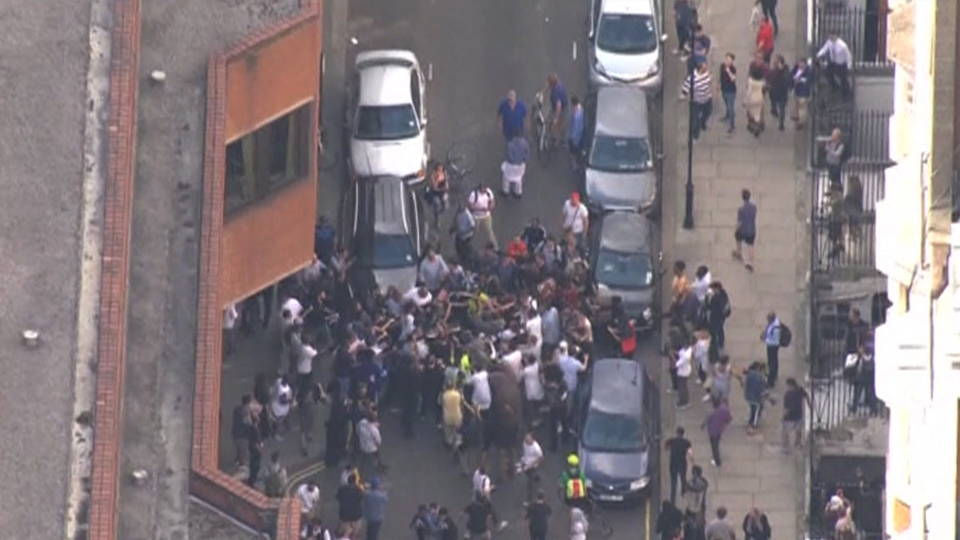 Back in the United Kingdom, hundreds of protesters stormed a town hall in London Friday, demanding justice for those killed when the 24-story Grenfell Tower apartment building went up in flames last week. Police scuffled with scores of angry residents shouting "We want justice!" and "They let our children burn!"
Protester 1: "Some people only come in here to look at the building. And what we actually need to do is come here and have justice for the people that are suffering, families and people that were in the fire, the victims. And I feel like this is not fair."
Protester 2: "It's a lot of injustice. It's a lot of injustice and negligence from the government and the council. The deaths shouldn't have happened. So many kids died. So many families were lost."
Police said today the death toll from the blaze had risen to at least 79, with dozens more injured. London Mayor Sadiq Khan called the fire a "preventable accident" that followed years of neglect by successive governments.
Mayor Sadiq Khan: "People who live in tower blocks across London, but around the country, being sick to death whether their tower block is safe. We need to know as soon as possible whether those tower blocks are safe, and there needs to be the best transparency as possible."
The company that recently renovated Grenfell Tower admitted over the weekend it used highly flammable—yet less expensive—cladding during construction. The cladding is banned from use in the U.S. and European Union, but allowed in Britain.