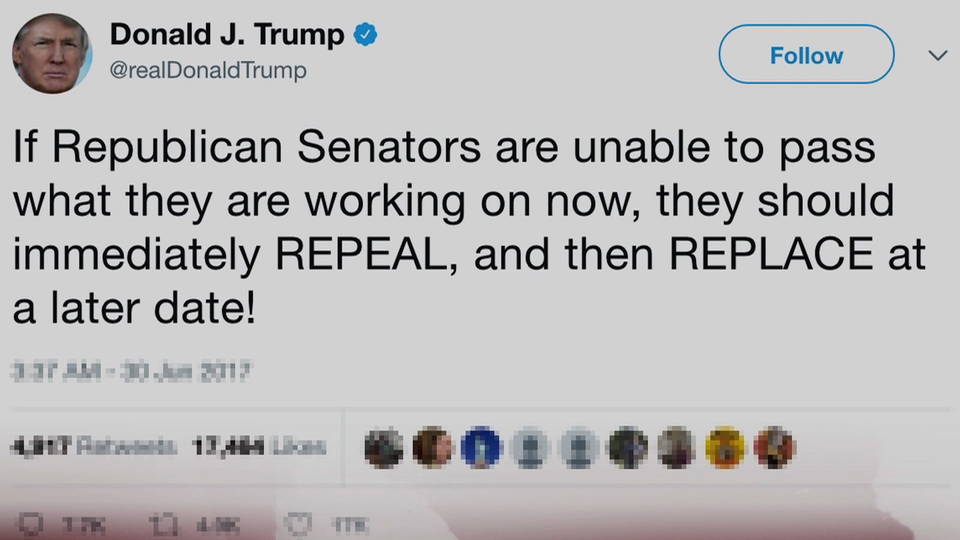 President Trump urged the Republican Congress today to repeal the Affordable Care Act, even as senators began leaving Washington, D.C., for the Fourth of July recess with no plans in sight to vote on a replacement healthcare bill. In a tweet early this morning, Trump wrote, "If Republican Senators are unable to pass what they are working on now, they should immediately REPEAL, and then REPLACE at a later date!" Senate Majority Leader Mitch McConnell called off a planned vote on a Senate healthcare bill after some members of his party balked over a Congressional Budget Office report that found it would add 22 million Americans to the ranks of the uninsured. Other Republicans said they'd oppose the Senate bill because it doesn't go far enough.
Trump Tweets Attacking MSNBC Hosts Spark Outrage, Charges of Sexism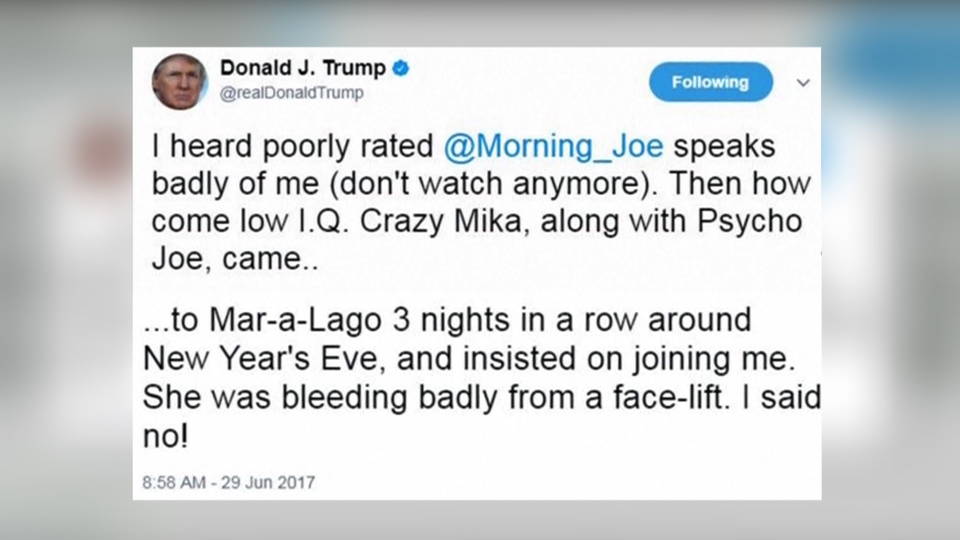 In Washington, D.C., President Trump sparked outrage even among members of his own Republican Party Thursday, after he attacked talk show hosts Joe Scarborough and Mika Brzezinski of MSNBC's "Morning Joe" program. In a Twitter rant, Trump tweeted, "I heard poorly rated Morning Joe speaks badly of me (don't watch anymore). Then how come low I.Q. Crazy Mika, along with Psycho Joe, came to Mar-a-Lago 3 nights in a row around New Year's Eve, and insisted on joining me. She was bleeding badly from a face-lift. I said no!" This is Mika Brzezinski responding to Trump on MSNBC this morning.
Mika Brzezinski: "It does worry me about the country. … He appears to have a fragile, impetuous, childlike ego, that we've seen over and over again, especially with women. It's like he can't take it."
In a piece titled "Donald Trump is Not Well" in today's Washington Post, Brzezinski and Scarborough write, "America's leaders and allies are asking themselves yet again whether this man is fit to be president." Trump's tweets drew fire across the political spectrum, including from Republican Congressmember Lynn Jenkins of Kansas, who tweeted, "This is not okay. As a female in politics I am often criticized for my looks. We should be working to empower women." In Washington, the White House was unapologetic over the comments. This is Deputy White House Press Secretary Sarah Huckabee Sanders.
Sarah Huckabee Sanders: "This is a president who fights fire with fire and certainly will not be allowed to be bullied by liberal media and the liberal elites within the media or Hollywood or anywhere else."