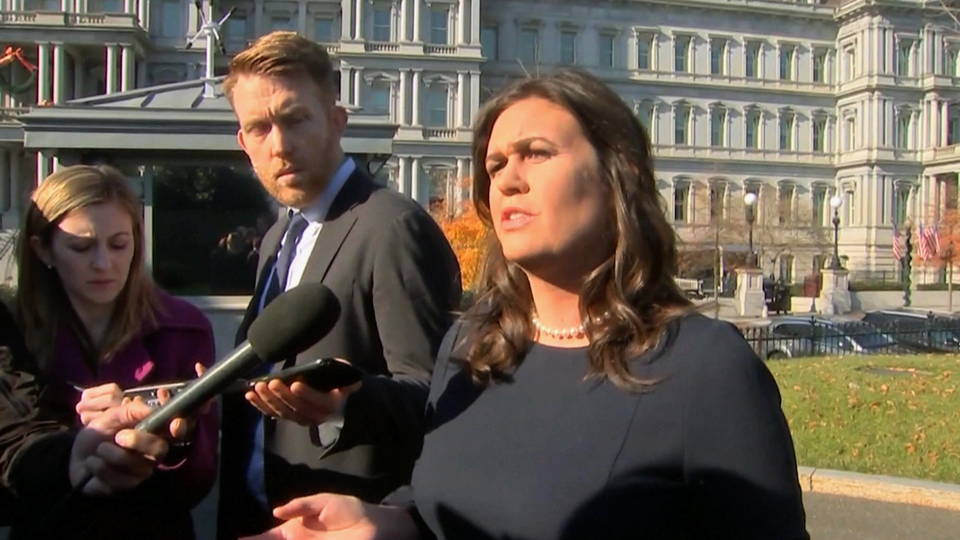 Two of the videos retweeted by Trump which were filmed in Egypt and Syria and presented without context, were titled, "Islamist mob pushes teenage boy off roof and beats him to death!" and "Muslim Destroys a Statue of Virgin Mary!" A third video titled, "Muslim migrant beats up Dutch boy on crutches!" shows one teenager kicking and punching another. Local media said the assailant was in fact born and raised in the Netherlands. The Dutch embassy condemned the tweeting of this video.
At the White House, Press Secretary Sarah Huckabee Sanders was grilled by reporters over the videos.
Sarah Huckabee Sanders: "Look, again, whether it's a real video, the threat is real, and that is what the president is talking about. That's what the president is focused on, is dealing with those real threats, and those are real no matter how you look at it."
Reporter: "Does it matter if it's a fake video?"
Sarah Huckabee Sanders: "Look, I'm not talking about the nature of the video. I think you're focusing on the wrong thing."
In the U.S., Muslim groups were swift to condemn Trump's retweets, which drew praise from Trump's far-right supporters. Louisiana politician and former Ku Klux Klan leader David Duke tweeted, "Thank God for Trump! That's why we love him!" We'll have more on Trump's Islamophobic and racist tweets after headlines with award-winning British journalist and broadcaster Mehdi Hasan.
More Women Accuse Matt Lauer of Sexual Harassment, Assault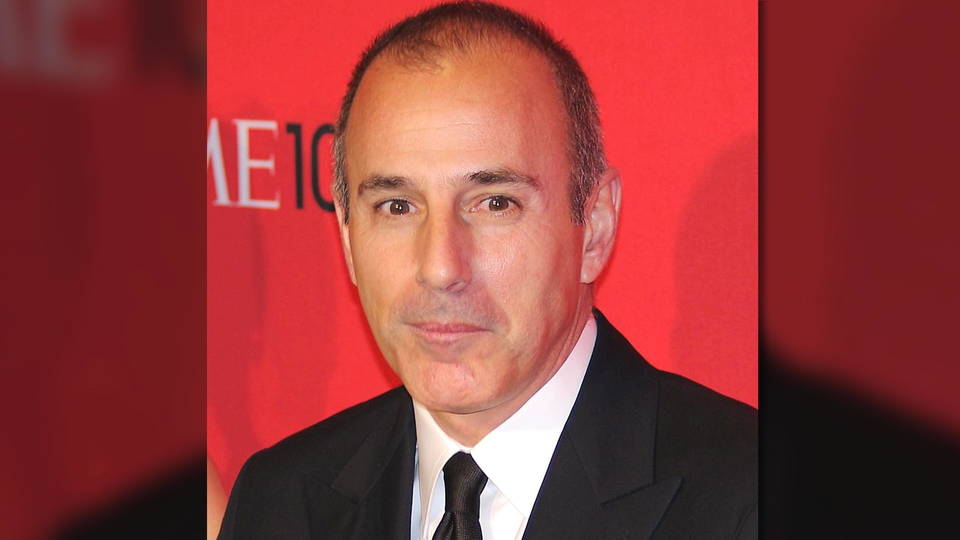 More women have stepped forward to accuse Matt Lauer of sexual harassment, after NBC News said Wednesday it has fired the longtime Today Show host. An investigation by the magazine Variety found Lauer once gave a sex toy to a colleague along with a note about how he wanted to use it on her. Variety also reports Lauer exposed his genitals to a colleague and reprimanded her when she rejected his advances. Meanwhile, the New York Times reports one former NBC employee was summoned by Lauer to his office in 2001. Lauer allegedly locked the door and sexually assaulted her.
MPR

Cuts Ties With Garrison Keillor Over "Inappropriate Behavior"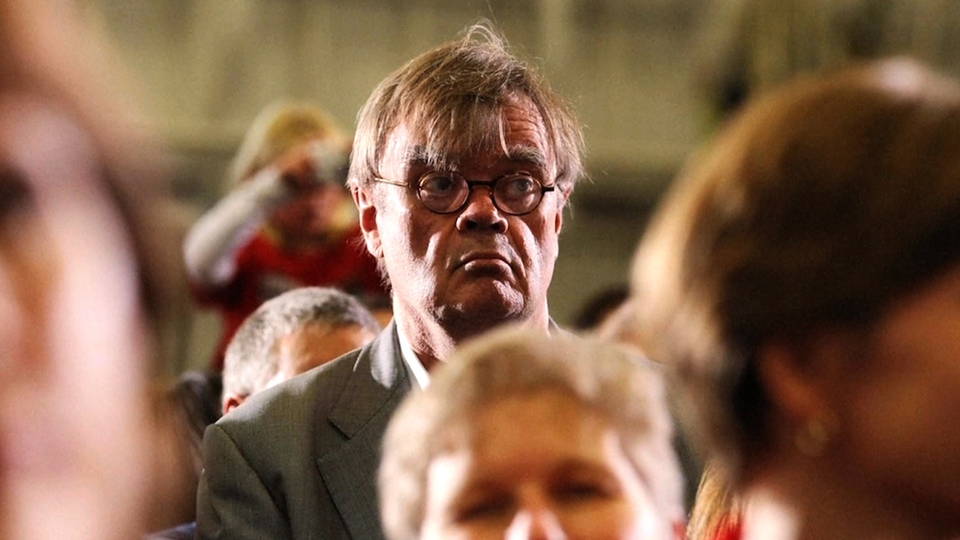 Minnesota Public Radio has severed ties with Garrison Keillor, the former host of the popular radio show "Prairie Home Companion," over what the network called "inappropriate behavior with an individual who worked with him." MPR did not clarify what allegations Keillor faces. In a statement to the Minneapolis Star Tribune, Keillor wrote, "I put my hand on a woman's bare back. I meant to pat her back after she told me about her unhappiness and her shirt was open and my hand went up it about six inches. She recoiled. I apologized." Keillor was fired less than a day after the Washington Post published his op-ed defending Senator Al Franken of Minnesota, whose political future is in doubt after four women said he had groped or inappropriately touched them. Keillor's piece was headlined, "Al Franken should resign? That's absurd."
Another
NPR

Executive Resigns Over Sexual Harassment Charges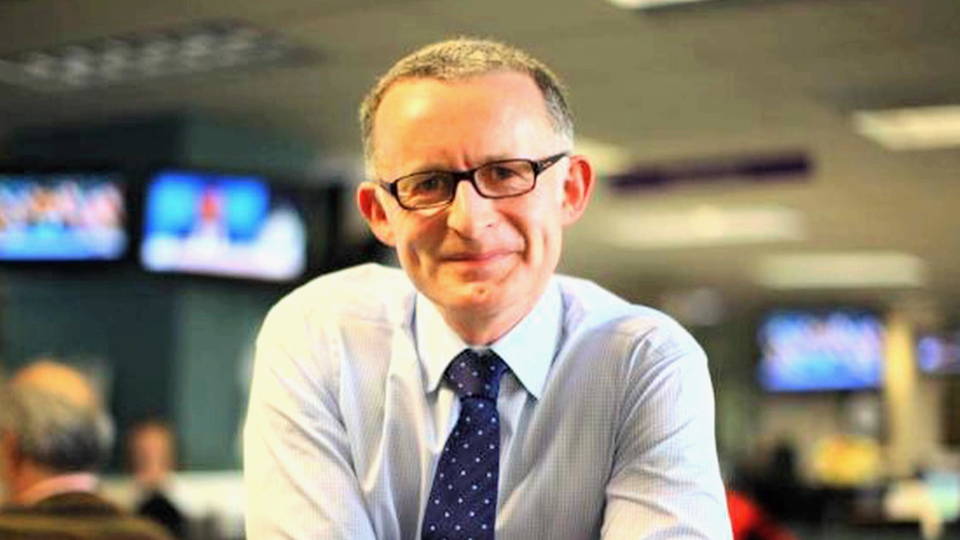 National Public Radio senior editor David Sweeney has resigned amid allegations he sexually harassed at least three female NPRjournalists. Sweeney's exit comes just weeks after NPR senior vice president for news Michael Oreskes resigned after several women said he kissed them without their consent and stuck his tongue in their mouths.
Lawyers Say Rep. John Conyers to Challenge Sexual Harassment Charges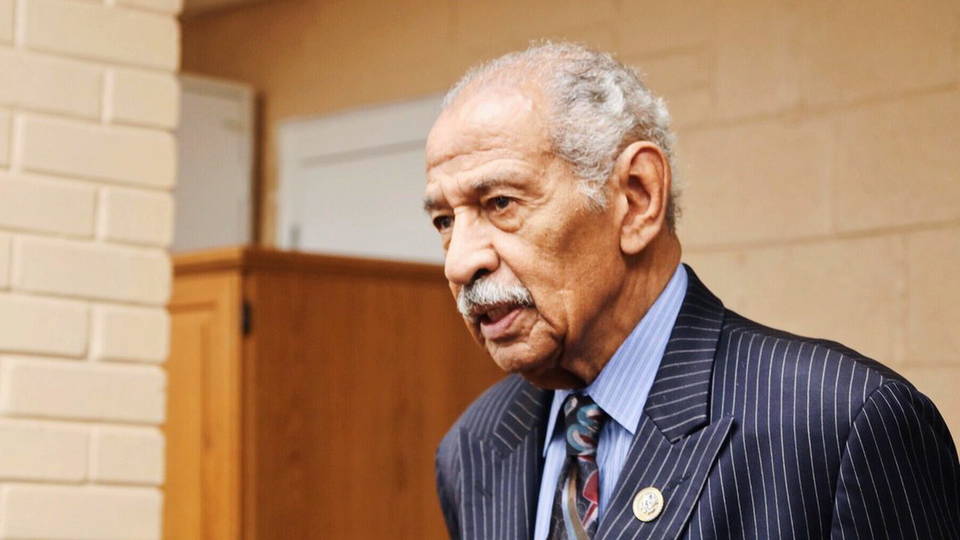 Meanwhile, lawyers for John Conyers say the 88-year-old Democratic Congressmember will not step down amid multiple accusations of sexual harassment. The lawyers told the AP that Conyers is innocent and will fight the allegations "tooth and nail." Several women have accused Conyers of stripping naked, making unwanted sexual overtures and touching female staffers inappropriately. Last week BuzzFeed News reported Conyers settled a harassment complaint in 2015, paying out $27,000 to a woman who alleged she was fired after rejecting Conyers' sexual advances.