Dear Kevin,

It has been a packed spring for PEN America as we pursue our mission to defend and celebrate free expression at a time of unprecedented tumult and division manifesting in our courts, coffee shops, campuses, Congress, online, and in the media. Writing this in the wake of the devastating shooting at the Capital Gazette's newsroom in Annapolis, MD and the week of the Supreme Court's decision upholding the President's Muslim Ban and Justice Kennedy's resignation, I personally have a sense of political and cultural vertigo—keeping balanced and focused takes hard work. The mounting challenges are frightening and, frankly, at times exhausting. But we have only to look at the crucial role of our free press in bringing to light the devastating developments at our southern border to fuel our work and underscore its necessity. Fortunately, the literary achievements and essential dialogues at April's PEN World Voices Festival and so many other PEN America events provide a sense of nourishment and perspective. As always, your support as PEN America Members and allies is such important inspiration.
Can comedy cure a country sick of fake news and alternative facts? The Daily Show's Hasan Minhaj discusses with author and New York Times writer Wajahat Ali.
Our 14th annual PEN World Voices Festival, organized around the theme "Resist and Reimagine," broke the previous box office record for the more 90 events featuring 200-plus writers representing over 50 nationalities. The highlights are many: The New Yorker's Jelani Cobb, The New York Times' Nikole Hannah-Jones, and the Pulitzer Prize-winning poet Gregory Pardlotackling black deaths in custody, mass incarceration, and the resurgence of white supremacy; Kenya's Ngugi wa Thiong'o, Ukrainian poet Serhiy Zhadan, Poland's Ryszard Krynicki, South Korea's Hwang Sok-yong, Argentina's Marcos Aguinis, and the Iranian-French filmmaker and author Negar Djavadi reflecting on writers facing tyranny and conflict; Hasan Minhaj and Wajahat Ali riffing on  comedy and creativity when truth and facts are under attack; our Artists at Risk Connection event Theater and Creativity in the Underground featuring troupes from Russia, Tunisia, and Belarus; and a day of storytelling for young people that included Wonder author R.J. Palacio, to name a few.
Secretary Clinton and celebrated author Chimamanda Ngozi Adichie, two of the strongest advocates for women and girls, share their insights into creating a better future.
Topping it all off was the Arthur Miller Freedom to Write Lecture delivered by Hillary Rodham Clinton, who decried the "all-out war on truth, facts and reason" and then engaged in a spirited conversation with writer (and fan) Chimamanda Ngozi Adichie. Other Festival participants included Colson Whitehead, Dave Eggers, Leila Slimani, Jhumpa Lahiri, Nicole Krauss, Colm Tóibín, Paul Auster, Salman Rushdie, Aminatta Forna, PEN America President Jennifer Egan, Eileen Myles, Bill Kristol, Max Boot, Ron Chernow, Patrisse Cullors, Chris Hayes, Chelsea Manning, Laurie Anderson, Amani Al-Khatahtbeh, and many, many more.
Debuting during the Festival was our new Online Harassment Field Manual, a first-of-its-kind digital resource for writers and journalists facing online hate and harassment, and for their employers and witnesses. We launched with a discussion featuring author Porochista Khakpour, media critic Anita Sarkeesian, and activist Yassmin Abdel-Magied, and followed with a panel in Washington, D.C., where I was joined by Julia Ioffe of The Atlantic, Jonathan Weisman of The New York Times, Wesley Lowery of The Washington Post, Soraya Chemaly of the Women's Media Center, and Michelle Ferrier of the anti-harassment initiative TrollBusters. We also spread the word about the Field Manual at the Los Angeles Times Festival of Books. The Field Manual received widespread coverage in The Guardian, Poynter, Columbia Journalism Review, Vox, HuffPost, and Publisher's Weekly, among others, and now we are sharing it with journalism schools and newsrooms around the country.
Author Margaret Atwood leads the call to demand the release of Wa Lone and Kyaw Soe Oo at the Literary Gala.
Our 2018 Literary Gala brought more than 950 supporters to the American Museum of Natural History for an emotion-packed evening as two survivors of the Parkland, FL, school shooting, Cameron Kasky and Samantha Fuentes, along with Zion Kelly, who lost his brother to a shooting in Washington, DC, received the PEN/Toni and James C. Goodale Freedom of Expression Courage Award on behalf of the youth activists nationwide rallying against gun violence. The evening also included writer Stephen King receiving the Literary Service Award, and recognition of Simon & Schuster CEO Carolyn Reidy as the year's Publisher Honoree. There was a surprise appearance by the 2012 Freedom to Write Award honoree Eskinder Nega, just released after seven years in an Ethiopian prison, and Margaret Atwood read messages from this year's PEN/Barbey Freedom to Write Award honorees, Reuters journalists Wa Lone and Kyaw Soe Oo, imprisoned in Myanmar after investigating massacres of Rohingya Muslim villagers.
Defending Free Expression
Post-gala, we continued to press for the journalists' freedom with a delegation including Myanmar journalists Lawi Weng of The Irrawaddy, who was imprisoned in 2017, Associated Press reporter and Pulitzer Prize winner Esther Htusan, who fled Myanmar last year after being threatened due to her reporting, and Eaint Thiri Thu, a researcher for news and human rights organizations. PEN America's new Washington Director, Thomas O. Melia, a veteran of the State Department and U.S. Agency for International Development during the Obama administration, organized briefings for the State Department, the U.S. Mission to the United Nations, Congressional offices, and the Washington Post and the Wall Street Journalalong with events at the Council on Foreign Relations and Asia Society. More than 50 writers and journalists, including Christiane Amanpour and Bob Woodward, signed a call for their release, and we urge you to add your names to the petition. At PEN America's BookExpo booth, hundreds of conference-goers stopped to write notes of encouragement to the imprisoned journalists.
Supporters write notes of encouragement in solidarity with Wa Lone and Kyaw Soe Oo at BookExpo and BookCon.
There is urgent action also on behalf of our 2017 PEN/Barbey Freedom to Write Award honoree Oleg Sentsov, the Ukrainian filmmaker imprisoned in Siberia after daring to challenge Russia's takeover of his native Crimea. As I write, he is 6 weeks into a hunger strike timed to the World Cup being hosted by Russia. Led by PEN America's specialist on free expression in Eurasia, Polina Kovaleva, we have rallied creative luminaries to sign a protest letter to President Putin, and persuaded the two senior US senators on the Helsinki Commission to urge President Trump to raise the case with the Russian president during the anticipated upcoming summit. Attention is being paid: a tweet supporting Senstov from Stephen King was captured by major media outlets including The New York Times and his case has been featured prominently in the Associated Press, The Economist, The Washington Post, The New Yorker, and The Guardian.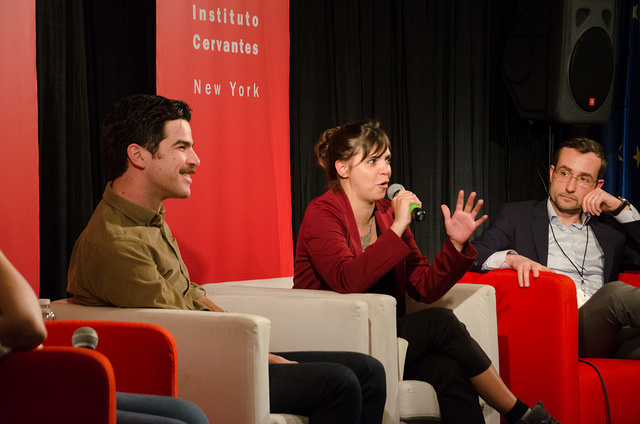 Borders of Our Imagination, with Francisco Cantú, Valeria Luiselli, Amalia Rojas, and Juan Manuel Benitez: part of the 2018 PEN WOrld Voices Festival.
In May, PEN America and Amnesty International worked together to launch the #FreeLiuXia campaign, which featured dozens of noted writers and artists including Rita Dove, Paul Auster, JM Coetzee, Khaled Hosseini, Hu Ping, and Michael Chabon reading the works of Liu Xia, the poet, painter, and widow of PEN America 2009 Freedom to Write Award honoree Liu Xiaobo who has been under illegal house arrest since 2010. We followed up with a Still Not Free poetry reading at BookCon, with Nick Flynn, Mona Eltahawy, Jeremy Tiang, and Nuar Alsadir reading Liu Xia's poetry and Graywolf Press donating copies of her collection Empty Chairs to the audience.
On the subject of the Trump administration's Muslim ban, PEN America led 32 other prominent arts organizations on a friend of the court brief in the State of Hawaii v. Trumpcase, urging the court to strike down the ban on grounds it violates Americans' First Amendment right to receive information by preventing them from hearing and interacting with the ideas of nationals from the targeted countries. Another case we're following is the Justice Department's seizure of electronic records belonging to a New York Times journalist, working with the National Press Club and 18 other organizations on a letter to Attorney General Jeff Sessions objecting to the action that centers on fraught questions of privacy and due process.
50 Years Post-MLK: Media, the Magic City, and How the South Was Won, with Kiese Laymon and Jacqueline Trimble: part of the PEN Across America initiative
PEN America continues to play a unique role as the progressive voice on the complex balancing of robust free expression protections with sensitivity to diversity and inclusion on university campuses. We convened this spring at the University of Virginia (UVA), bringing together students, faculty, and administrators to reflect on the aftermath of the August 2017 Unite the Right rally of white supremacists. A public discussion entitled Whose Freedom, Whose Speech? engaged the entire UVA community. Also on this important topic, this spring I authored two pieces in the Washington Post (here and here,) and participated in a series of public discussions hosted by the Federalist Society, Binghamton University, and debates hosted by Intelligence Squared and the Comedy Cellar, which also featured Wesleyan President Michael Roth. PEN America also co-hosted a panel with Phillips Andover Academy entitled Political Correctness, Inclusion, and the Battle over Campus Speech, with participants including Andover's Head of School John Palfrey and Vice Provost for Institutional Equity and Diversity at Princeton Michelle Minter. I also joined a panel discussion for the Washington Post Live on the current risks to press freedom in the U.S.
PEN Across America: Media & Marginalization—Positively Queer, with Marlin M. Jenkins, Tony Norman, Casey Rocheteau, and Kyle Dacuyan
In an initiative we're now calling PEN Across America, we are continuing to mobilize PEN America communities in regions across the country. The focus now is the importance of preserving press freedom from the perils of presidential attacks, consolidation, and the shriveling of resources for local news. Our members and their allies have organized events in more than a dozen cities, marking the 50th anniversary of the assassination of Martin Luther King, Jr. with 50 Years Post-MLK: Media, The Magic City, And How The South Was Won in Birmingham; looking at how the media portrays the experiences of LGBTQIA+ writers and activists of color with Media and Marginalization in Pittsburgh; and In the Balance: Press Freedom and the Public Good, introducing the Indianapolis Star journalists who investigated and wrote the stories about widespread sexual abuse in the USA Gymnastics program.
PEN America's staff experts are also traveling worldwide: to Toronto to speak at RightsCon, where we presented on global social media censorship, the free expression risks of extreme vetting, and online harassment; to Accra for the global UNESCO commemoration for World Press Freedom Day; to Salvador-Bahia, Brazil, for the Artist Rights Justice Academy; and to Malmö, Sweden, for the International City of Refuge Network General Assembly.
Celebrating Literature
Book-loving revelers join in the fun at Lit Crawl NYC
The June 1-August 15 submission period is now open for the 2019 PEN Literary Awards. We also accept nominations from professional members of PEN America for many of our most prestigious career awards; please take a moment to nominate deserving poets, playwrights,and editors. We are also accepting applications for the Emerging Voices Fellowship, a literary mentorship run from our Los Angeles office that aims to provide new writers who are isolated from the literary establishment with the tools, skills, and knowledge they need to launch a professional writing career (meet the 2018 Emerging Voices Fellows here.) We have also been accepting applications for the Writing For Justice Fellowship, which will commission writers working in any genre to create works that illuminate critical issues related to mass incarceration. The first cohort of Fellows will be announced in September. The full 2018-2019 slate of PEN America's Literary Grants and Fellowships, including for translators, oral historians, and emerging writers, is available here.
Can Free Speech Be Saved? Jill Abramson, DeRay Mckesson, Jose Antonio Vargas, and Katy Glenn Bass discuss the issues, intersections, and tensions at hand.
Our slate of public events this spring was replete with current literary voices. Roxane Gay had a bracing conversation with Isaac Fitzgerald about #MeToo, #BlackLivesMatter, body size, and feminism. At BookExpo, we presented DeRay Mckesson, Jill Abramson, andJose Antonio Vargas on Can Free Speech Be Saved?, a rigorous discussion of the tension and intersection between race and free speech. We wound up our inaugural PEN Out Loud season in collaboration with the Strand Book Store reflecting on freedom, power, and rage with Dr. Brittney Cooper and Darnell Moore; Molly Crabapple and Alexis Okeowo on writing about war; and celebrating our 2018 PEN Literary finalistsHari Kunzru, Victor LaValle, Nicole Sealey, and Hannah Lillith Assadi. April's Lit Crawl NYC brought more than 500 revelers to the streets of Greenwich Village and environs for readings, trivia games, and celebration of the unique creative energy of the New York literary community.
Young writers and their mentors at Telling Our Story, celebrating their works as part of PEN in the Community
In Los Angeles, we joined with Belletrist co-founders Karah Preiss and Emma Roberts for a conversation with authors Melissa Broder and Morgan Parker on writing and reading in the city, literary community, and their favorite bookstores. There were more readings in LA as our PEN In The Community writing residencies culminated at the Greenway Court Theatre and the Japanese American Cultural & Community Center, and the 2018 Emerging Voices fellows, alums, and mentors appeared at Hotel Café and Skylight Books.
It has been a jam-packed first half of 2018, and I hope you find multiple points of connection with PEN America's wide range of advocacy, programming, and projects. I look forward to updating you again this fall.
With warm regards,