Job 1 for '21: Vaccinate the world
Illustration: Aïda Amer/Axios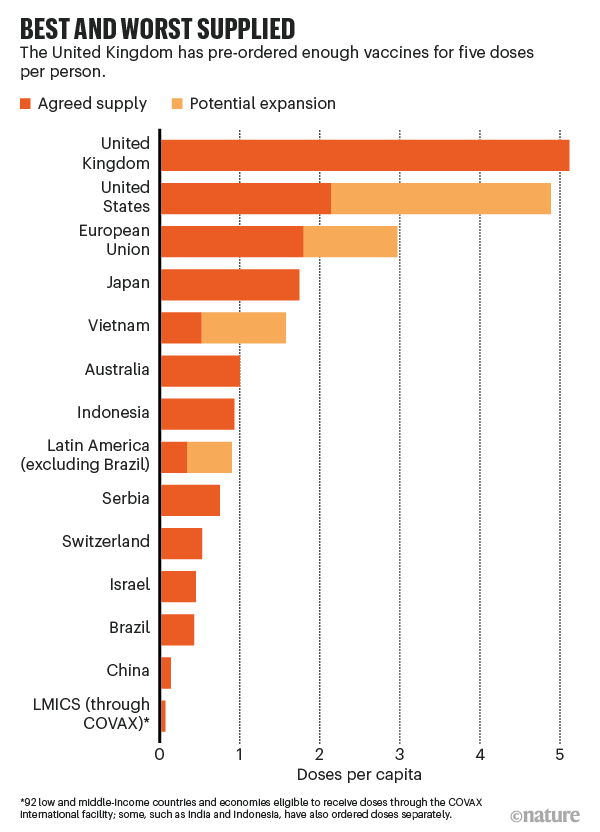 If you're reading this in Europe, the U.S. or one of several other wealthy countries, you will probably have access to a vaccine in 2021, Axios World author Dave Lawler writes.
But if you're in a lower-income country, particularly in sub-Saharan Africa, you could be waiting until 2023.
The first vaccines to gain regulatory approval in the West — from Pfizer/BioNTech and Moderna — are bound almost exclusively for wealthy countries, at least in the near term.
Many rich countries have hedged their bets by buying enough doses of several different vaccine candidates to cover their populations even if some candidates aren't approved.
If you combine doses purchased and reserved, the U.S. has dibs on nearly one-quarter of the global supply, with 2.6 billion doses, according to a Duke tracker.
The Economist Intelligence Unit projects that the most fortunate countries — including the U.S., U.K., EU and Japan — will spend the first half of 2021 vaccinating priority groups and the second half of the year vaccinating the remainder of their populations.
In other high-income countries — as well as in countries like China, Brazil, India and Russia that are producing or manufacturing vaccines at scale — mass vaccinations will begin next year but likely continue into early 2022.
What to watch: President-elect Biden has said he'll re-engage with the World Health Organization and restore America's global leadership, but he hasn't spoken about a U.S. role in global vaccine distribution.
Share this story.