STORY OCTOBER 21, 2022
This is viewer supported news. Please do your part today.
TOPICS
---
GUESTS
Kimberlé Crenshawprofessor of law at UCLA and Columbia University, and co-founder and executive director of the African American Policy Forum.
Barbara Arnwinecivil rights attorney and advocate, and the president and founder of the Transformative Justice Coalition.
---
LINKS
Image Credit: Julia Sharpe-Levine
We speak to law professor Kimberlé Crenshaw and civil rights attorney Barbara Arnwine, who are on an Arc of Voter Justice bus tour of 26 cities across the country to increase Black voter turnout at critical midterm elections in November. They discuss fighting voter suppression and racial gerrymandering, and the high stakes in states where Republicans have instated bans on what they describe as critical race theory. "African American voters are key to all these races," says Arnwine. "They're going to vote what's in the best interests not only of their community, but the entire nation." Crenshaw says she is handing out banned books and education to voters because "when racism is unspeakable, then democracy — a full multiracial democracy — is unachievable."
---
Please check back later for full transcript.
The original content of this program is licensed under a Creative Commons Attribution-Noncommercial-No Derivative Works 3.0 United States License. Please attribute legal copies of this work to democracynow.org. Some of the work(s) that this program incorporates, however, may be separately licensed. For further information or additional permissions, contact us.
Related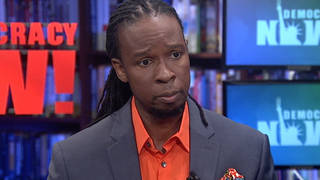 DAILY NEWS DIGEST
Our Daily Digest brings Democracy Now! to your inbox each morning.
Work with Democracy Now!
We're hiring a People and Culture Manager. an Associate Digital Editor and a Video News Production Fellow. Learn more and apply today!